I'm an adult skater and like skateboarding. So I want to continue to do that. I figured protecting my knees is probably the way to go considering I'm still doing and learning tricks that can be hard on the knees in particular. I'm not doing tricks off of the Hollywood 16 mind you, but even flat ground can be rough after a long session.
So I decided to get some insoles to at least try them out. I bought a few pairs so I could compare them and post about them here and so I would be able to find the best pair for me. I started with Shred Skateboarding Insoles and am now on Footprint's Gamechangers and the difference is surprisingly noticeable.
I have reviewed quite a few pairs of skateboarding insoles and wrote up a round up review where I compare all of them side by side. Check it out.
Anyway, let's get to the review.
Review
Summary: 4/5
Overall, these insoles live up to the hype and their large reputation. I love the fitting, comfort, and cushion of them. They fit so well that I often forget that I'm wearing them and I finish a session of flat-ground tricks with no knee ache at all. The designs are plentiful and stylish and the custom molding method is really innovative and unique.
They're good insoles and I definitely recommend them. This post is a part of my insoles review series and so far compared to Shred Skateboarding Insoles, Footprint's Gamechangers are the best insole I've tried.
Comfort: 4/5
One of the two major purposes of an insole is to make walking or in this case, skateboarding, more comfortable. Footprint's Gamechangers achieve this brilliantly. Most insoles have some sort of adjustment period while you adjust to having a foreign object in your shoe.
Gamechangers instantly felt comfortable. I quickly forgot I was wearing them which is a very positive thing. The cushion that Footprint boasts of as having technology used in the Internation Space Station lives up to the hype. It feels like walking constantly on a foam playground mat. I felt a bit fresher after going on long walks and definitely felt different after a skating session.
The only major downside is the thickness of the insole. They were thick enough to absorb everything, but they made my shoe feel tight even after adjusting the laces. This tightness was a nuisance and made me reconsider wearing them a few times.
Otherwise, I think these are knee savers. I'm twenty-seven years old and although that's still young, my knees get worn out after a session of working on flat-ground tricks. I have been previously hesitant to suggest insoles to adult skaters, but I think I'm beginning to be swayed. There is a difference and I wonder how much it will help as I get older.
If you like to skate on your own, check out my guide to skating alone and why I prefer it.
Price: 3/5
Price is one of the most important aspects of buying a product for me.
Footprint insoles are a bit pricier comfort than insoles found in Walmart or even other skateboarding insoles. Footprint Gamechangers are priced at $50 on the company website and are sold for as low as $35 on online retailers such as Amazon. The insoles are cheaper to buy from online retailers.
Usually, if you pay more money, then you expect a better quality product. The same goes for Footprint's insoles as $50 is pretty pricy for an insole. However, Footprint Insoles delivers with quality and as a result, the company has an impressive reputation. For example, they advertise a skater doing a trick on the infamous El Toro 20 stair that was originally attempted by Ali Boulala, but has now been skated by quite a few daredevil skaters.
They're also have had Jaws Homoki drop the Lyon 25 while wearing Footprint insoles. The video is kind of crazy and honestly not the type of skateboarding I like, but worth a watch.
Fitting: 5/5
The fitting mechanism of Footprint Insoles is a bit different than other insoles that come already formed or rigid. Footprint insoles actually want you to pop their insoles in the oven for 8 minutes and then pop them into your shoe for a quick walk. Wear socks so you don't feel uncomfortable with the hot insoles.
The insoles will actually mold to the shape of your foot in this time and the insoles are able to be remolded with no loss of cushioning. It's an extra step, but still kind of cool and this step makes a huge amount of difference in the fit and comfort of the insole.
Of course, everyone has different arches and shapes for their feet so it naturally follows that a rigid insoles shape won't match everyone's feet. Some insoles get around this by simply being gel-like and generally shaped, but it isn't quite the same as the Footprint custom fit.
Otherwise, you order the insole in foot size ranges that might require you to use scissors to trim the edges of your insole to fit inside your shoe. I didn't need to do this, but the insole definitely made my shoe feel quite snug and maybe a half-size-up shoe would work better with the insole.
Skateability: 3.5/5
There is no skateboarding insole that will improve your skateboarding and every insole will result in losing at least a little board feel.
That being said, Footprint's Gamechangers felt good and I honestly couldn't tell much if any difference in my skateboarding without the insole and with the insole. This is a great sign and probably the best any insole can hope to achieve.
However, there was one session where I was skating in front of Tussa Skateboards that I felt frustrated and removed my insoles. At the time, I felt like it was harder to flick the tail and pop the board than it should've been, and blamed the cushioning of the insoles.
I removed them and it did feel like my board popped a bit easier, but that might've been a mental thing. I'm not sure. This only happened once and was the only incident like it for me. Most of the time, I would forget I was even wearing insoles.
Also, I did notice my knees weren't sore at all after a session of flat-ground tricks which is not common for me. That alone is awesome and pretty important for adult skaters.
Design: 4.5/5
Design is a weird criterion for an insole as most people won't ever see the design. Yet, it still feels good to have a cool design for your insole, because you will see it every time you take off or put on your shoes.
So it may not be incredibly important, but Footprint does have some sick designs. There are a large variety of colorful and aesthetically pleasing insole design to choose from as well as some sponsored designs such as their Greg Lutzka design. Their design is definitely more impressive than the Shred insoles selection with is pretty pithy.
I personally went with their "Colours" design which at first glance looks like an abstract oil painting with no shape, but it actually makes up a woman's back if the soles are put together. It looks cool and I enjoy seeing it as I slip my shoes on. Typically, I like bold colorful designs for tattoos, and apparently, I like them for insoles as well.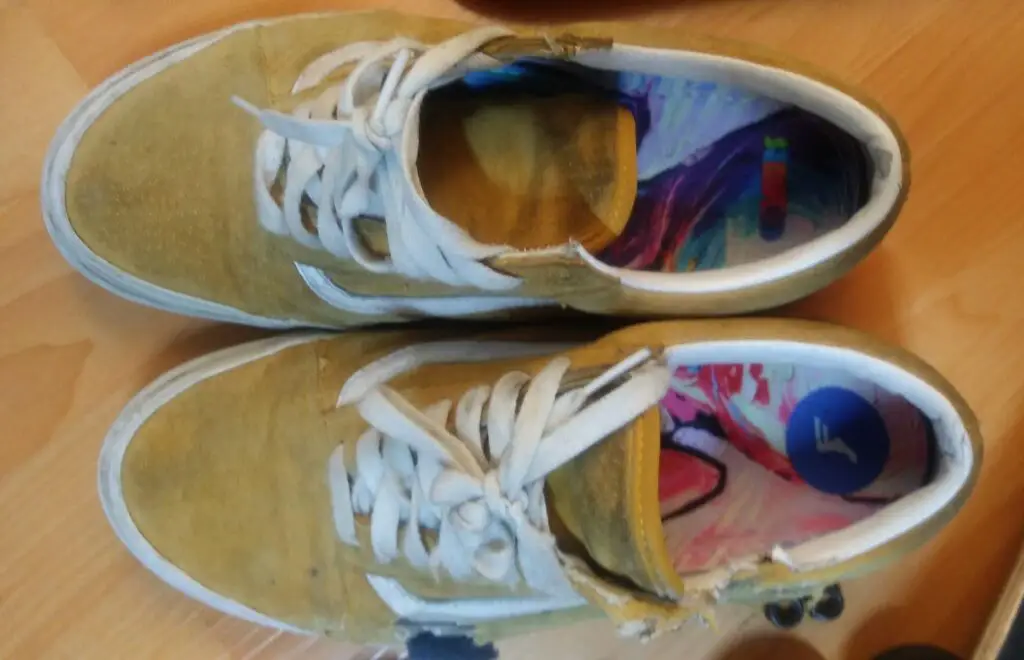 Footprint Insole Sizing Chart
| | | |
| --- | --- | --- |
| Men's Size | Women's Size | Footprint Insole Size |
| 4.0-4.5 | 6.0-6.5 | (M 4/4.5 | W 6/6.5) |
| 5.0-5.5 | 7.0-7.5 | (M 5/5.5 | W 7/7.5) |
| 6.0-6.5 | 8.0-8.5 | (M 6/6.5 | W 8/8.5) |
| 7.0-7.5 | 9.0-9.5 | (M 7/7.5 | W 9/9.5) |
| 8.0-8.5 | 10-10.5 | (M 8/8.5 | W 10/10.5) |
| 9.0-9.5 | 11-11.5 | (M 9/9.5 | W 11/11.5) |
| 10-10.5 | 12-12.5 | (M 10/10.5 | W 12/12.5) |
| 11-11.5 | 13-13.5 | (M 11/11.5 | W 13/13.5) |
| 12-12.5 | 14-14.5 | (M 12/12.5 | W 14/14.5) |
| 13-13.5 | 15-15.5 | (M 13/13.5 | W 15/15.5) |
The sizing for Footprint insoles runs true to size, but you can see that they don't have unique sizes for half sizes. This might cause you to need to trim your insoles with scissors after you mold them, but this is ok. Footprint gives instructions to help you trim your insoles if you need to.
If you're a movie buff, check out our guide to the best skateboarding movies and documentaries and where to watch them for free.
Additional Questions
How Do I Mold My Footprint Insole?
Footprint gives a clear guide on how to fit your insoles to your feet and the process is pretty simple.
Preheat an Oven to 235 Degrees Farenheit or 110 Degrees Celsius
Put Your Insoles Inside the Preheated Oven for 8 Minutes
Put Your Warmed Insoles Inside a Pair of Shoes
Walk Around On the Warmed Insoles for 5 to 10 minutes
This is kind of fun to do and the warm insoles feel like a nice heated massage on your feet. The insoles can be reheated and molded any number of times so don't worry if you messed up the process somehow.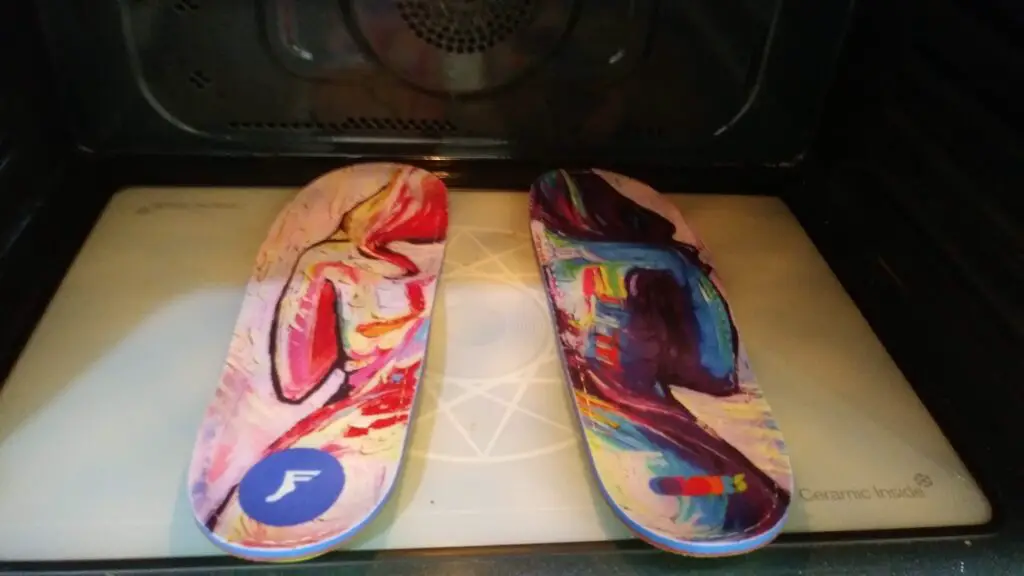 Does Footprint Have Insoles for Flat Feet?
It is estimated that 70% of people have arches that are too low. At its extreme, this is called having flat feet.
Footprint Insoles has insoles designed specifically for flat feet, high arches, or those with special orthotic needs. They break down their insoles into those that offer orthotic protection and those that simply offer impact absorption. For those with knee pain and high arches, they recommend an orthotic insole such as their Kingfoam insole. For flat feet, Footprint recommends a flat sole such as their Gamechangers insole.
It seems like Footprint has the insole game covered so you should be able to find what you need despite your foot and arch type.
Conclusion
Overall, I had high expectations for Footprint's Gamechangers as they are lauded all over the internet and I wasn't disappointed. They are extremely comfortable and cushioning with nice design options. My knees felt great after a long flat-ground session and they didn't affect my board feel too much.
They are slightly on the pricy side, but you can grab a pair for cheaper from online retailers like Amazon.
Anyway, thanks for reading, and look out for more articles from Board and Wheels.