I'm an adult skater and like skateboarding. So I want to continue to do that. I figured protecting my knees is probably the way to go considering I'm still doing and learning tricks that can be hard on the knees in particular. I'm not doing tricks off of the Hollywood 16 mind you, but even flat ground can be rough after a long session.
So I decided to get some insoles to at least try them out. I bought a few pairs so I could compare them and post about them here and so I would be able to find the best pair for me. I started with Shred Skateboarding Insoles and have been wearing them for the last two weeks.
I have reviewed quite a few pairs of skateboarding insoles and wrote up a round up review where I compare all of them side by side. Check it out.
Review
Summary: 3.5 Stars out of 5 Stars
Shred Skateboard Insoles are a solid and reasonably priced choice for skateboard-specific insoles. They're comfortable, easy to skate in and fit true to size. I'm not a huge fan of the design on these in particular, but insole design is probably one of the least important aspects of the insole.
Comfort: 3.5/5
The comfort was definitely nice, but maybe not quite as Shred Insoles advertises as "Cloud Like Comfort". I felt like I was walking on a padded mat and impacts from walking downstairs and jumping were definitely less. I also liked the arch support built into the insole. As someone with high natural arches on my feet, the arch support really helped spread the weight across my foot.
I wore these in Nike sneakers when I wasn't using them to skate. They were comfortable in a Nike sneaker and could also be used for everyday use. I felt slighter taller while wearing them as well and they add about a quarter inch in height.
The cushion was a nice surprise when I fit slipped them into my shoe, but I quickly forgot I was wearing them as I went about my day. I consider this a good thing as the insole felt natural enough to not be noticed.
Price: 4.5/5
The Shred Skateboarding Insoles are priced at $29.99 retail. These insoles aren't the cheapest insoles out there but are very reasonably priced for a skateboarding-specific insole. Compared to the popular Footprint insoles, these are cheaper by about $15-$20.
Fitting: 4/5
At first, I was worried that the preshaped insole wouldn't match my foot well. I have pretty uniquely high natural arches on my feet. Yet the built-in arch lined my foot very well once the natural pressure of my weight was applied. I think the built-in arch support might be an issue for people with flat feet though. The soles will mold a bit to match your foot shape though.
The insole took up a good bit of space in my shoe and I had to loosen the laces before I could comfortably put my shoes on. What is normally a snug fit with my sneakers could be considered tight with the insoles in place. I wouldn't say that this tightness was uncomfortable per se, but these insoles might be best fitted with a shoe half a size up.
I have naturally small feet and wear size Men's 8 to size 9 shoes. I got the Men's size 5-7 insole which I figured might be slightly small and there was a slight overhang with my toes. This didn't cause any discomfort though and the fit was still quite close despite me ordering a smaller size than I should've. I would say that the insoles definitely run true to size.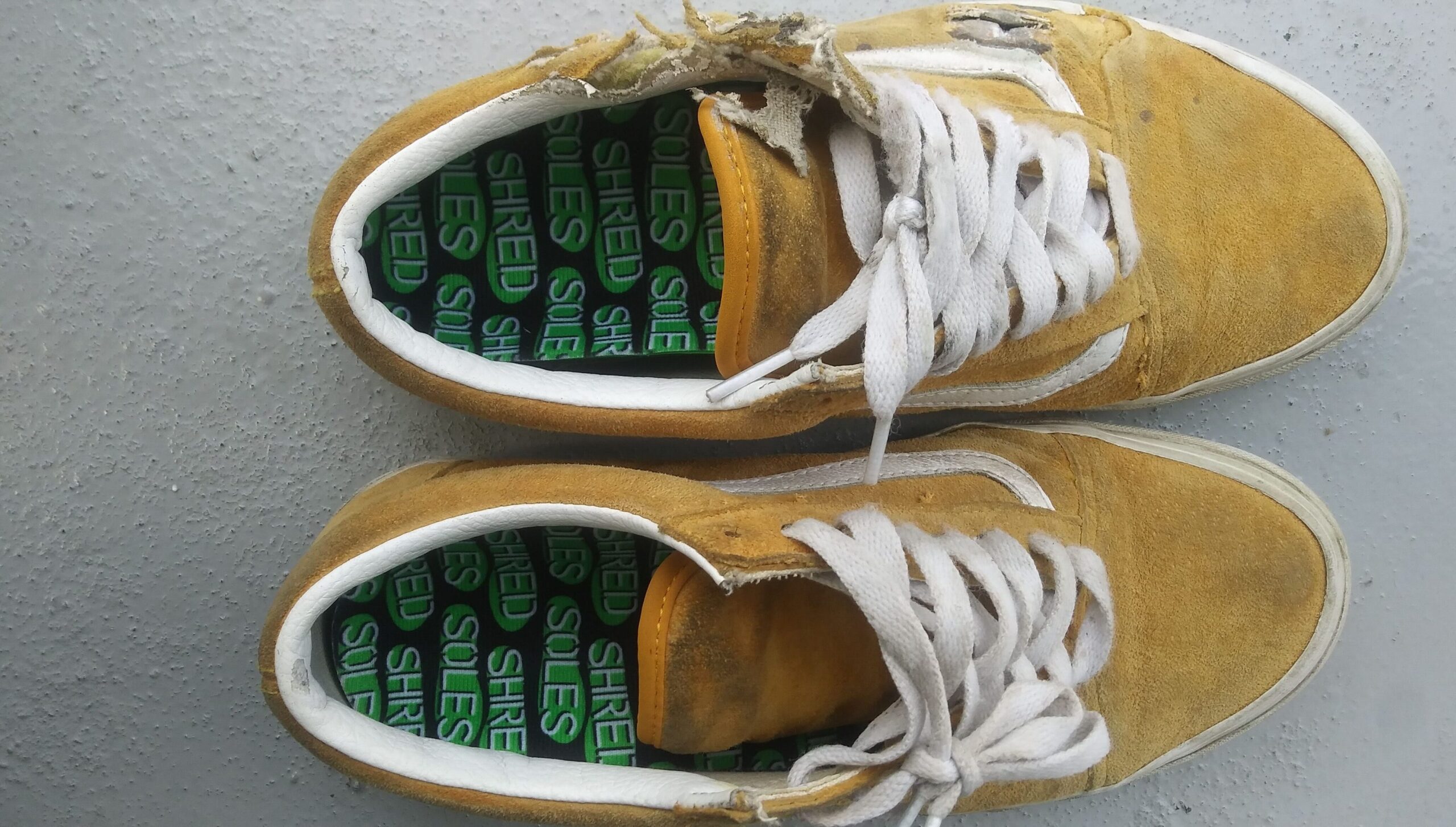 Skateability: 3.5/5
When I first tried skating with this insole, I felt slightly off. It took me a little bit to get used to the padding of the insole between me and my board. I will be honest, you will lose a bit of board feel while wearing this insole.
That being said, you will lose at least a bit of board feel with almost every insole. After adjusting, the insole didn't affect my skating ability at all. In fact, I had a surprisingly clean and controlled session. I wouldn't attribute this to the insole though.
I felt a bit fresher after skating with the insoles. The impacts felt lighter and I could absolutely tell the difference by the end of an hour and a half session. It was interesting to feel like I landed on a padded mat, yet still, roll away with good speed. I really liked that feeling.
I plan to keep skating with these insoles. As I'm an older skater, I could use any help I can get to save my knees.
I have only used them for a couple of weeks at this point so I can't say much about the durability, but hope to update this article if I can remember to actually do so.
If you're interested in learning about if skateboarding is bad for your knees, read our guide here.
Design: 2/5
The design of an insole doesn't really matter considering that no one will see them unless you take your shoes off. The general public will not be privy to your insole design.
Yet, for whatever it is worth, I wasn't a big fan of the bright green Shred logo against a black backdrop. The design has too much going on for what it is and it draws the eye when you see it. This isn't something I particularly want in an insole and the design would look very strange in anything other than a sneaker. Imagine seeing this design in a loafer or dress shoe.
So, I'm not a fan of the design. I think it's a bit too flashy and not subtle enough. Again though, the aesthetic design of an insole really isn't important. Not many people will ever see it.
If you wondering whether you should get a longboard or skateboard, then check out our guide here.
Shred Insole Sizing Chart
Shred Skateboarding Insoles run true to size and are offered in size ranges rather than specific sizes. This means that they might come a bit large if your size is in the lower range of a particular size range. The Shred Soles FAQ states to simply trim the sole with a pair of sturdy scissors if this is the case.
The sizes below are American, not European, shoe sizes so adjust accordingly.
| | | |
| --- | --- | --- |
| Shoe Size (Men's) | Shoe Size (Women's) | Shred Insole Size |
| 5-7 | 6-8 | Small |
| 7.5-9 | 8.5-10 | Medium |
| 9.5-11 | 10.5-12 | Large |
| 11.5-13 | | Extra Large |
A handy size chart! Shred Skateboarding Insoles come in size ranges rather than sizes specific to each shoe size. This might mean you will trim your insole.
Does Shred Insoles Have Insoles for Flat Feet?
Shred Insoles do not carry insoles designed specifically for flat feet, but their insoles do mold to the user's foot to some extent. There is one insole where they advertise as also suitable for flat feet and it is the Plantar Fasciitis and Heel Spur Pain Relief Full Length Orthotic Insole. This insole is designed for plantar fasciitis, but the design also makes the insole comfortable for those with flat feet.
You can find the plantar fasciitis insole here.
Also, keep in mind that there are other options for people with flat feet that might be better. For instance, Footprint is an insole company and the insoles are heated and molded directly for your foot shape. This makes choosing between arch support and insoles for flat feet arbitrary.
If you're curious about how long it takes to learn an Ollie on average, check out our guide with data here.
Conclusion
Shred Skateboard Insoles are a solid and reasonably priced choice for skateboard-specific insoles. They're comfortable, easy to skate in and fit true to size. I'm not a huge fan of the design on these in particular, but insole design is probably one of the least important aspects of the insole.
I definitely plan to keep skating these insoles and save my knees a bit of wear and tear. I'm 27 years old as of writing this, and I need to be conscious about this if I want to keep skating for the long term.
Anyway, thanks for reading, and look out for more articles from Board and Wheels.