Vans have a reputation as skate shoes but have become common street sneakers for many people. Are they actually good for skating or is their reputation a marketing ploy?
Vans shoes are iconic and associated with skateboarding for a reason. They are simply great shoes. The company does offer models that are not meant to be skated, so be sure to avoid those, but a pair of Van's Classics or Van's Old Skool sneakers are a great shoe for beginner and experienced skaters alike.
Let's go into the reasons why they make such a great skate shoe.
Reasons Why Vans Shoes Are Good For Skating
They Have Thick Uppers
Thick uppers are critical to a skate shoe.
This is what allows the skaters to catch and flick his or her board. The upper also is thick enough to protect your ankle and not wear down too quickly. If you have a thin upper, you'll go through a pair of shoes in a week so the thicker the better as long as it isn't overdone.
The Van's skate shoes have a thick upper that is thick enough to be stylish, but also thick enough to skate and last for at least a few months. You may need to repair a hole with shoe goo, but you'll have a shoe that lasts as long as the best of them and is comfortable to skate.
They Have Flat Soles With Minimal Tread
Flat soles are another essential part of a skate shoe. Without it, you'll have no board feel.
Vans sneakers ubiquitously come with flat soles that are perfect for skating and minimal tread so that the soles grip doesn't limit your movement on the skateboard. The minimal tread is innovative because it maintains a great grip while keeping the sole itself flat. Think about other grippy shoes. Do they have flat soles? Most have curved and rounded soles, but this would make it more difficult to flip and position your feet on the board.
Vans sneakers come with the infamous "waffle" tread that is so common that you've probably seen it even if you don't know what it is. Many other skate shoes mimic this tread pattern.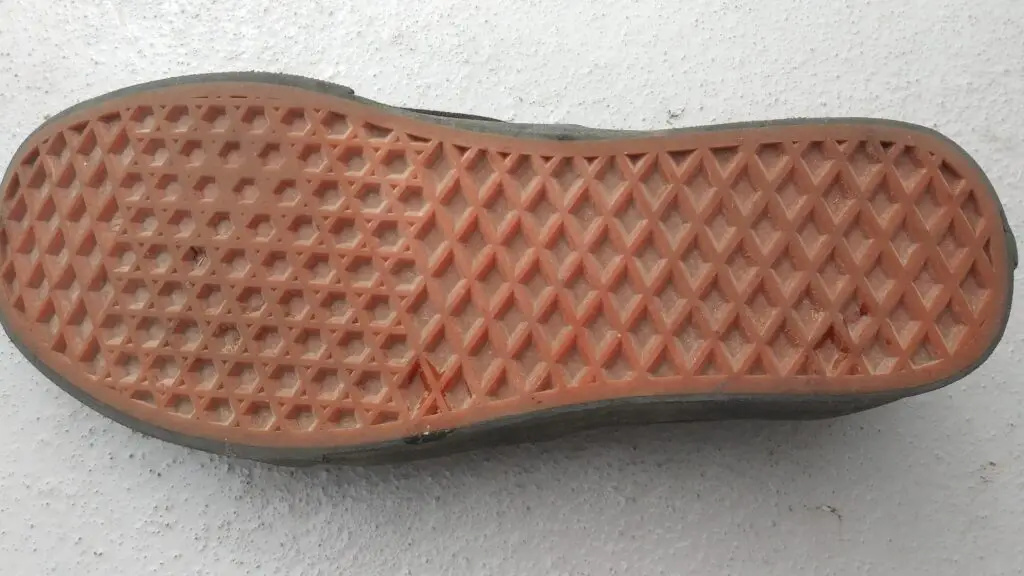 They Are Built With Cushioning Needed For Skating
Most Vans sneaker models are built with skateboarding in mind.
So this includes building in a sole that can handle and absorb the impact of flat ground and technical tricks. The sole itself is made of vulcanized rubber with a foam padded insole fitted within. The insole is firm, yet absorbs impacts well and can be easily replaced with another insole if needed.
Though, this often is not the case, unless you are an older skater and want extra protection for your knees.
They Have a Vulcanized Sole
Many skate shoes feature a vulcanized sole, but what actually does that mean?
A vulcanized sole is a rubber sole that undergoes a chemical process to increase its tensile and elastic strength. This involves using sulfur to create links between the rubber's polymer chains. A vulcanized shoe is created when this sole is glued to the shoe's upper with a thin strip. This differs from the stitching used in cup-sole shoes.
Essentially, this means that the sole is one large piece instead of being stitched together. This allows a greater board feel and makes the shoe more durable. Shoes with stitching tend to tear on the stitching as that's a natural stress point.
All Vans sneakers have the iconic vulcanized sole.
If you're looking for a great skate shoe, check out my bought and worn Vans Old Skool sneaker review.
Which Vans Shoe Models Are Good For Skating?
So, unfortunately, not all of the skate shoes that Vans offers today are meant for skating. The company has expanded and even publicly changed its logo in 2016 indicating that they no longer saw themselves are primarily a skate shoe company.
Some of their shoes simply don't have the thick uppers or other qualities needed for a skate shoe.
| | |
| --- | --- |
| Vans Shoe Model | Good For Skating? |
| Vans Authentic | No |
| Vans Old Skool | Yes |
| Vans SK8-HI | Yes |
| Vans Classic Slip-On | Yes |
| Vans Bearcat Skate Shoes | Yes |
| Vans Era | No |
Refer to this table before you buy a pair if you intend to actually skate them. Nothing sucks more than wasting $70 on a shoe you can't actually skate.
Be careful what you buy. Most shoes they offer are very skateable, but some simply aren't thick enough in the uppers to protect your ankle and last as a skate shoe.
How Much Do Vans Skate Shoes Cost?
Price matters. So Vans are a good skate shoe, but are they affordable?
Vans sneakers range in price from $40 to $80. These prices are taken from Amazon and the company site. The shoes are usually slightly cheaper from online realtors like Amazon than from the company site. Different models have different prices with models like the Vans Authentic being cheaper than the SK8-HI model shoe. (source)
Honestly, the prices for Vans are competitive with other skate shoe companies and can actually be cheaper if you find a good deal or sale. Big companies can do that and Vans has grown into a massive international business.
If you're wondering what makes a skate shoe skateable and what features to look for, check out my complete guide here.
Who Started The Vans Company?
The Vans company prides itself on being an authentic skate company as compared to other shoe companies that made skateboarding shoes only after seeing the potential profit.
Paul Van Doren is the original founder of Vans and started the company in 1966 in Anaheim California. It wasn't until 1976 though, after his son showed an interest in skateboarding and he was commissioned to design a logo for a skateboard, that he released his first skate shoes which would go on to become the Van Classics.
Vans became quite popular and other brands started selling knock-off versions of the shoe. The company struggled as prices were forced down to stay competitive and Paul Van Doren and his partner sold Vans in 1988. The banking firm who purchased the company helped crackdown on counterfeits and the company then flourished. It expanded internationally and has grown into the company we know today.
Vans still sponsor skateboarders, but also snowboarders, BMX riders, and other extreme sports athletes. They are also the primary sponsor for the Van's Warped Tour which is a traveling rock concert.
Additional Questions
Which Outlets Sell Vans?
You can easily order a pair of Vans online as their shoes run true to size, but sometimes it's nice to pick them up from a local outlet. Which outlets sell Vans near me?
Shoe Carnival
Journey
Zumiez
Rackroom Shoes
DSW
Shoe City
Shoe Palace
Your Local Skateshop
Those are the major shoe outlets that sell Vans but keep in mind most major outlets and even local outlets will keep Vans in stock. Vans also have dedicated stores in most of the US and internationally. If you aren't sure if your local shop carries Vans then just call ahead to check.
What Are Color Changing Vans and Where Can I Buy a Pair?
These are pretty unique but are worth mentioning as they are a new style. Theoretically, they should be fine to skate as any other Vans shoe, but I haven't tried them myself.
Vans UV Inked model shoes take classic models and styles and incorporate UV ink to allow the shoes to change color when exposed to sunlight. These shoes are slightly more expensive than normal models but are cute and flashy if you are interested in a unique shoe. Typically, sunlight brings out additional colors on the shoe.
I haven't tried these myself and might pass, but you can still buy them as of writing this post. I would venture to say that they might be discontinued at some point so if you're interested in a pair get them now. They might actually end up being worth some money someday.
Are Vans Bad For Your Knees?
Flat-soled shoes are never very good for your knees. Unfortunately, if you want to skate, flat-soled shoes are the only viable option.
Vans offer skateboarding shoes that feature a flat sole. This flat sole doesn't offer much orthopedic support and can be rougher on your knees as it puts more stress on your joints. The shoes are designed to be skated in and casual wear. Do not use Vans sneakers to run, hike, or play sports.
Sometimes people think Vans are athletic shoes and this blows my mind. They are absolutely not and skating shoes are very specific to skateboarding, not other sports. The only other sport where they might be ok would be basketball as basketball shoes use a flat sole design as well. This was why many early skaters actually skated in basketball shoes.
Can You Replace the Soles On Vans Shoes?
Sometimes you need a bit more cushion if you are an older skater or have knee trouble.
You can replace the soles of your Vans by removing the current insole and replacing it with another. If your alternative insole is thin enough, you can simply slide it into the shoe without removing the current Vans insole first. This is a good way to keep a pair of shoes longer even after you've worn the sole down to nearly nothing.
There are some great skateboarding insole companies out there and I've personally tried Footprint, Remind, and Shred skateboarding insoles. I actively use Remind insoles in my pair of Vans as well which helps as I've really worn out the bottom of the shoe not only from skating but also from stopping while longboarding.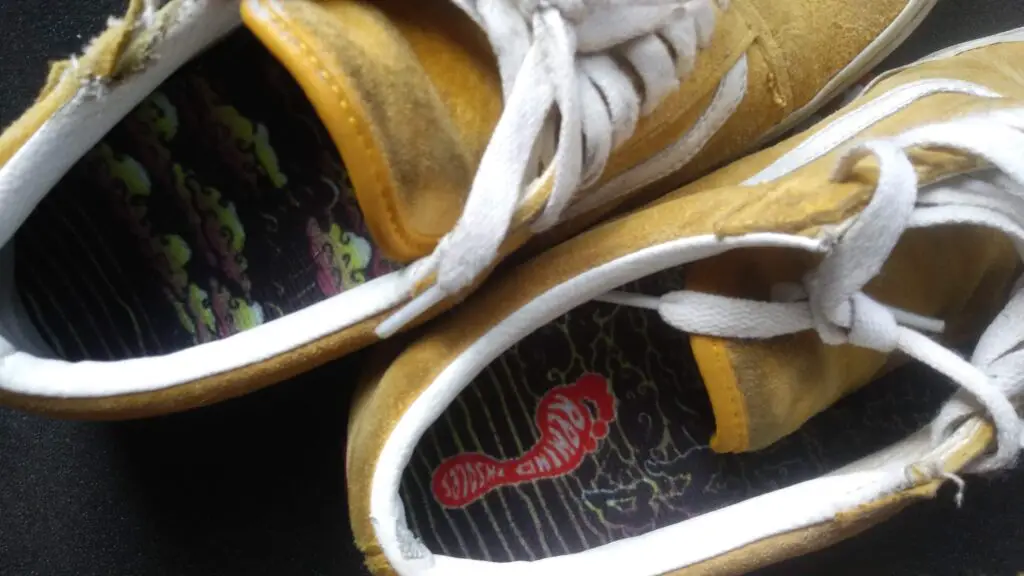 If you want to see my side-by-side review of all the insoles I bought and wore, check out my in-depth round-up review here.
Conclusion
So Vans are a great skate shoe and you should skate them.
Personally, I skate Vans the most though I do intend to try out Nike SB next just to see what all the hype is about. Vans offer some pretty stylish models that most all can be skated. Though if you skate a pair of shoes, the holes you'll make won't make the shoe look presentable.
Vans are pretty reasonably priced too and you can grab a pair at just $40 sometimes. Just make sure you get the correct model if you intend to skate them. Not all Vans shoe models can be comfortably skated.
Anyway, hope this little guide helps. Thanks for reading, and look out for more articles from Board and Wheels.