Vans have been associated with skateboarding since the 70s and their Old Skool sneaker is a stylistic classic. But do they skate well? Are they comfortable? Are they durable?
The Vans Old Skool sneaker is a revitalized classic for a reason. The style is synonymous with skateboarding and can be worn casually with shorts or pants. The vulcanized, flat sole is perfect for board-feel while skateboarding or longboarding, and the canvas upper is durable enough to handle a few months of skating. I found my pair to run true-to-size and were comfortable despite me having feet with high arches.
I'm a Vans fan. Honestly, I skate Vans more than any other shoe and even have a pair of their classic sneaker to wear when I don't skate. So, while I might be a bit biased towards this shoe, I'll try to be honest about my experience. I've worn through a pair and need to replace them. I've got holes in the upper from skating and a hole in the bottom of the shoe from stopping while longboarding.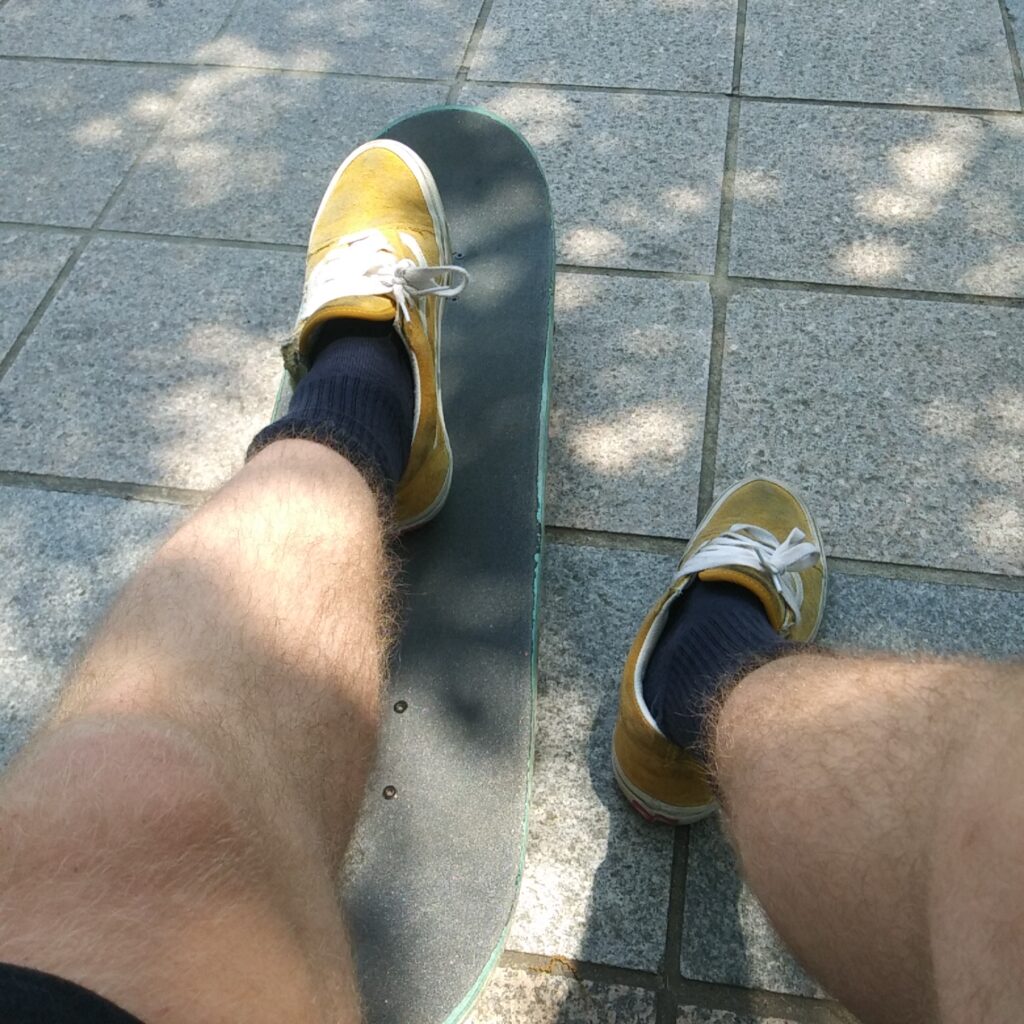 Vans Old Skool Sneaker- Price: 9/10
A pair of Vans Old Skool Shoes goes for $60-$65 on the Vans company website and from $65+ on Amazon. As far as a quality pair of shoes go, you can't go any cheaper. This is a great price for the quality and style you get. The shoes are slightly cheaper on the Vans company website than Amazon, but the difference in price might be made up with shipping included.
You can also find Vans at pretty much any major shoe outlet so it's easy to find a pair. The price is great for what you get so if that's important to you (it is for me), then Vans Old Skool Shoes are a good choice.
If you're interested in ordering a pair, you can purchase a pair for yourself here.
Vans Old Skool Sneaker- Aesthetic: 10/10
The aesthetic doesn't need to be defended. It is the classic skate shoe style that so many other companies try to imitate. The Vans style is the gold standard for skate shoe style in my opinion and is popular with non-skaters and skaters alike.
The style is so versatile. You can wear these shoes with shorts or pants. Men and women can wear them. They are a bit casual so don't use them for a dressy event, but otherwise you can't really go wrong here. If you are skateboarding, then you know your pair will get torn up quickly and be less presentable.
I got the gold color version so they didn't match with everything I own color-wise, but if you grab a darker color like black then they really go with almost everything.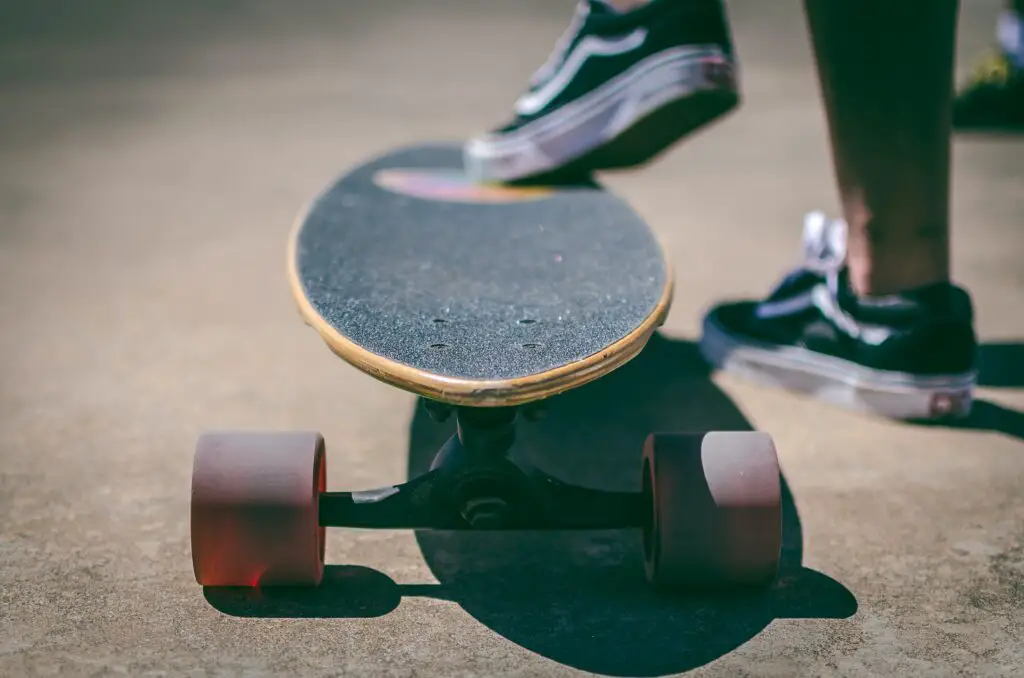 Vans Old Skool Sneaker- Sizing: 9/10
Vans are known to run true to size while other brands don't necessarily do so. Nike is known to run a bit small for instance. I have small feet with high arches and got a men's size 8 pair (I have tiny feet I know). I needed to stretch my pair out a bit as it rubbed my heel a bit. I think this is because they run true to size and I should've gotten a men's size 8.5. I'm so used to shoes running big.
After a bit of stretching, they have gotten comfortable. I wouldn't go hiking in them, but they're great for casual wear, skating, and longboarding. There is little to no arch support, but these are skate shoes after all. If you know your size, I would be confident enough to order them online.
If you want to get started skating and want to learn about necessary safety gear, read our guide here.
Vans Old Skool Sneaker- Comfort: 7.5/10
These shoes are as comfy as you would expect a nice casual shoe to be. They aren't as comfy as a pair of running shoes and they don't offer any arch support which is a thing if you have high arches like I do. Still, they hold their own and I feel great after wearing them for hours at a time out in the city. As long as you get the correct fit, then you should have no issue with the shoe.
For skating, if you need better arch support or additional padding then you can always add an insole so this is really a non-issue. Virtually all skate shoes have no arch support and flat soles with good reason. You need that flat sole to control your board.
I will say after I started to wear down the sole of my sole, the cushion went away with it. My current pair is worn to death and not so comfortable anymore, but I've had them almost a year. This is a very long life for skate shoes, but I have mostly been longboard cruising over the last year. I had a few months off from an ankle injury and haven't been skateboarding much since then. I am starting to get back into the park though 😉
Vans Old Skool Sneaker- Durability: 7/10
The durability is pretty solid as far as skate shoes go. I tore up one side pretty quickly (within 2-3 months), and had to repair it with shoe goo and a piece of an old sock. Honestly, I think I had a full hole in my left shoe's upper within the 2nd or 3rd month of having them. Which, considering I was only skating a couple of times a week at the time, is pretty fast. You can easily repair the shoes and get more life out of them though.
If you aren't skateboarding then these shoes will last well over a year until the sole wears down. For skaters, replacing a shoe every 2-3 months is normal so don't let my anecdote scare you away if you don't skate. Plus if you get a hole in one side, you can always start learning how to skate switch 🙂
Vans Old Skool Sneaker- Skateability: 8/10
Vans are great for skating. The shoe's upper is cushioned, durable, and catches the board easily. The shoe has a flat sole with minimal tread that gives a good board-feel. There is a reason that skaters started using Vans to skate in the 1970s. The shoes aren't bulky at all and are comfortable to wear while on a skateboard.
Popping and flicking the board is relatively easy and I never had any issue with catching the board. The only thing that was limiting me was my bad skating 🙂
Are Vans Old Skool Shoes Still Popular?
This question is easy to answer.
Vans Old Skool Shoes are still very popular. This style is one of Vans' highest selling shoes and you commonly see people wearing these shoes casually and skaters wearing these at the skatepark. You can see celebrities even wear these shoes including Justin Beiber, ASAP Rocky, Daniel Radcliff, and others.
The Vans style is iconic and isn't going away anytime soon. Rest assured that you won't buy a pair and they suddenly go out of style. They will always be classic shoes and a classic style.
If you wondering if skateboarding is popular culture or not, check out our explanation on how skateboarding's entered popular culture here.
Conclusion
In conclusion, Vans Old Skool Sneakers are a great casual shoe. They're affordable, stylish, comfortable, and very skateable. I personally love my pair and plan to buy another in the future. First, I want to try a pair of Nike SB shoes, but then I'll be back to Vans.
You really can't go wrong here whether you're a skater or just want a casual shoe. The price is affordable. The style is on point and versatile. The shoe is good quality and comfortable.
So that's it. What do you think about the shoe? Do you like your pair?
Thanks for reading and look out for more articles from Board and Wheels.