Skate shoes (or skateboarding shoes) are a must-have if you want to do anything more than cruise on a skateboard. This is because doing skateboard tricks often relies on the ollie which requires you to slide your foot up the rough griptape of your board.
Sliding your foot for an ollie with normal shoes will make it difficult to "catch" the board and will cut up your ankle. Simply put, if you want to do tricks on a skateboard, you need a pair of skate shoes.
What Are Skateboarding Shoes?
If you are a beginner, it might not be clear what a skateboard shoe really is. However, there are some pretty distinct differences.
Skateboarding shoes are shoes designed for use during skateboarding. They usually have special features such as minimal tread, a vulcanized and flat sole, and extra padding on the shoe to allow the shoe to be used to catch the board during ollie-based tricks. All of these features are designed to give the skater better control of the skateboard.
There actually are quite a few more subtle designs that go into a skate shoe although those are the basics. The more subtle design features might include a cross lace pattern to prevent laces from tearing, abrasion-resistant material such as suede or leather in the shoe's upper, and shock absorbent insoles. There are many more and Wikipedia has a solid list of technologies built into different skate shoes.
As you skate a bit more, you will easily begin to distinguish between a quality skate shoe and shoes that are not designed to skate in. You may come across people skating in unconventional shoes like Timberlands or High Heels, but they are making it hard on themselves for the sake of making a funny video.
What is a Vulcanized Shoe?
This is a bit technical and hard to understand, but I'll put the info here anyway.
A vulcanized sole is a rubber sole that undergoes a chemical process to increase its tensile and elastic strength. This involves using sulfur to create links between the rubber's polymer chains. A vulcanized shoe is created when this sole is glued to the shoe's upper with a thin strip. This differs from the stitching used in cup-sole shoes.
Did you get that? I didn't understand the chemical part of it, but maybe one of you will!
The gist is that vulcanized skate shoes are pretty popular as they have more flexibility and have a better "board feel". Cup sole skate shoes offer more protection and are more securely attached to the shoe's upper, but are more rigid. Either is fine and in my experience, there isn't so much of a difference. That being said I've never consciously compared them which I hope to do soon with an experiment in a future post.
Differences Between Skate Shoes and Normal Shoes
So we have mentioned some of the general differences between skate shoe features and normal shoes, but it still might not be clear. So let's make a table!
In this table, I will only include the common features of skate shoes and not the more esoteric ones such as Ollie Patchs.
| | |
| --- | --- |
| Skate Shoe Feature | Normal Shoe |
| Minimal or no tread | Tread on bottom of shoe to enhance grip |
| Flat sole | Arched or flat sole |
| Extra padding on shoe's upper (~.25 inch) | No extra padding on shoe's upper |
| Lace loops to "hide" the laces | Normal laces |
| Suede or leather upper to increase durability | Various materials for durability or stylistic reasons |
| Vulcanized or cupped soles | Cupped soles |
How Much Do Skate Shoes Cost?
Skate shoes aren't more expensive than normal running or casual shoes. Typically, the price of skate shoes runs from $40-$100 depending on the brands you might buy. There really aren't any standout cheaper brands for skate shoes, but below is a table that summarizes the general prices for each brand that can be found on their company site and on Amazon.
| | |
| --- | --- |
| Company | Skate Shoe Price |
| Vans | $40-$80 |
| Nike | $60-$110 |
| Adidas | $70-$110 |
| Converse | $70-$90 |
| DC Shoes | $60-$110 |
| Supra | $50-$80 |
Honestly, all of these skateboarding shoe brands make solid shoes. Some of the Nike "skate shoes" seem like they are more concerned with style than skating, but overall most of the shoes are quality. Personally, I almost always skate Vans as they are good value and have a classic skate shoe look (not 90s classic).
There isn't much price difference between the company website and Amazon for the prices above. In some cases, like for Adidas, the company website was cheaper than Amazon.
Examples of Skate Shoe Brands
Vans
Vans are synonymous with skateboarding and this is due to their long history of producing skate shoes after skaters adopted their shoes in the 1970s.
The brand originated in California with the rebirth of skateboarding and is a solid reputable choice. They contrast completely with Nike, Adidas, and Converse which are major brands that jumped onto the skateboarding bandwagon in the late 1990s (Adidas 1998) and 2000s (Nike SB 2001 and Converse 2009). Though Nike also tried to initially get into skate shoes in the 90s as well.
I personally have always skated Vans and love them to death. They are authentic and are good value. Grab a pair.
Nike
Nike started their current skateboarding subsection of the company Nike SB in 2001 with Sandy Bodecker promoting them. This was their 3rd attempt at creating and marketing skate shoes. They first tried with Nike Skate Shoes in 1996, but this was a largely failed attempt as the shoes weren't very good for skating and skateboarding was still very subculture at the time. Skaters weren't quick to embrace a large corporation.
Despite this, Nike does have a history with skateboarding though not due to the corporation itself. Nike's basketball shoes were somewhat popular with skaters due to their flat soles in the 1980s with even Powell-Peralta skaters riding with Nike Jordan 1s.
Currently, Nike sponsors Nyjah Hudson who is arguably the most famous current skater behind legends such as Tony Hawk. I personally haven't skated Nike SB shoes, but they are becoming very popular these days.
Adidas
Adidas first launched its skateboarding shoes in 1998 and sponsored skateboarding legends such as Mark Gonzales, Dennis Busenitz, and Na-kel Smith (though Na-kel isn't quite a legend, he's an interesting skater and artist nonetheless).
Their skateboarding shoes were ultimately successful as they prioritized features to make their shoes perfect for skateboarding. With the adoption of their prominent sponsored skaters, Adidas successfully entered the skateboarding shoe market.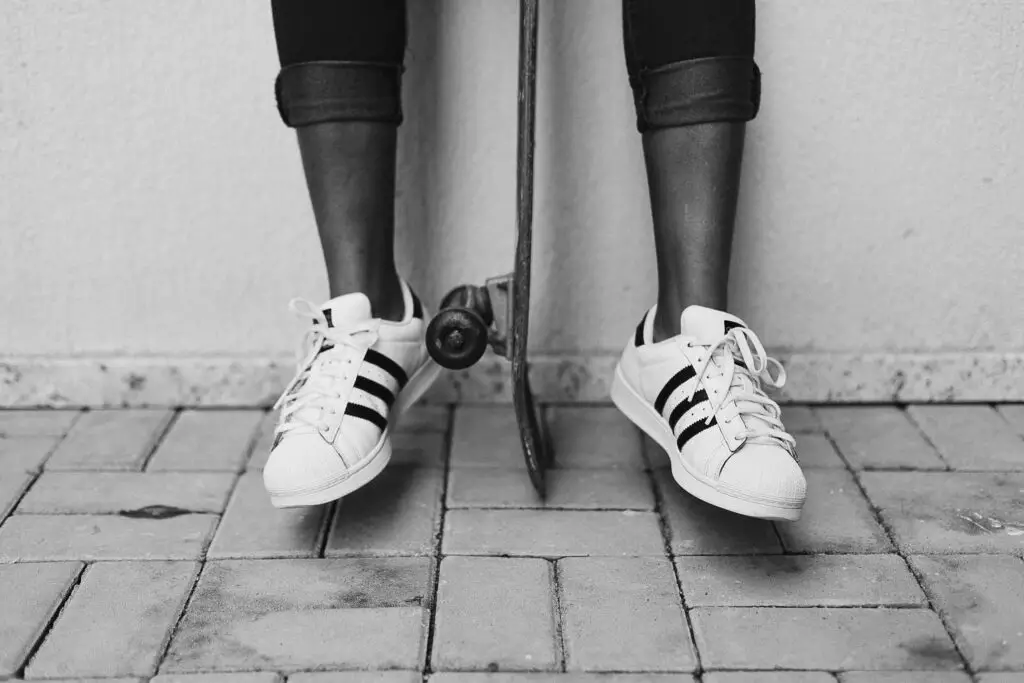 Supra
Supra was launched in 2006 partnering with pro skaters such as Chad Muska. The brand focused on skateboarding shoes with an aesthetic and would partner with musicians and other artists for collaborations.
The brand was cool as it was a small player with lots of style and had collaborations with big names like Jay-Z.
However, in 2015, the company was purchased by Kswiss Global Brands that have a parent company in South Korea. This kind of made the company lose some credibility and swagger that was part of its early success.
Still, they make good quality and very skateable shoes.
DC Shoes
DC Shoes officially came to be in 1993 and at first, was known as Droors Clothing. DC Shoes grew quickly as a company in the mid-90s as their shoes were quickly adopted by skaters. Rob Dyrdek owns part of the company and they are a great example of a skate brand that started off with skateboarding shoes (and other extreme sports) in mind.
You can't go wrong with a pair of DC skate shoes, though I personally haven't skated a pair since middle school. Their shoes usually have a more classic and 90s look though there are a few sleeker skate shoes in their catalog.
Converse
In 2009 Converse launched its skateboarding shoe brand Converse CONS. Converses were used by skaters in the 90s without any intent by the corporation itself. Guy Mariano wears Converse One Stars in the 1996 skate video "Mouse".
Since the launch of Converse CONS, Converse has invested pretty heavily into skateboarding and has even hosted skateboarding competitions, but it sort of feels like a marketing ploy to me. Either way, some skaters swear that converses are some of the best skate shoes out there.
You can't go too wrong with grabbing yourself a pair.
Where to Buy Skate Shoes
The easiest way to buy skate shoes is from an online retailer is Amazon is in your country then you can use Amazon. Coupang and Gmarket are good choices if you live in Asia.
However, like always I will recommend that you purchase your skate shoes in a skate shop or from a local retailer if possible. That being said, most skate shops have a pretty slim selection of skate shoes. For this reason, buying from an online retailer or a Nike or Vans shop is perfectly ok.
I'm not going to include a sizing chart here, because you probably already know your shoe size and there will be no difference in your normal shoe size and your skate shoe size. A general tip though is that Vans run true to size and Nike runs a bit small. This means you might want to order a shoe size larger if you're buying Nike.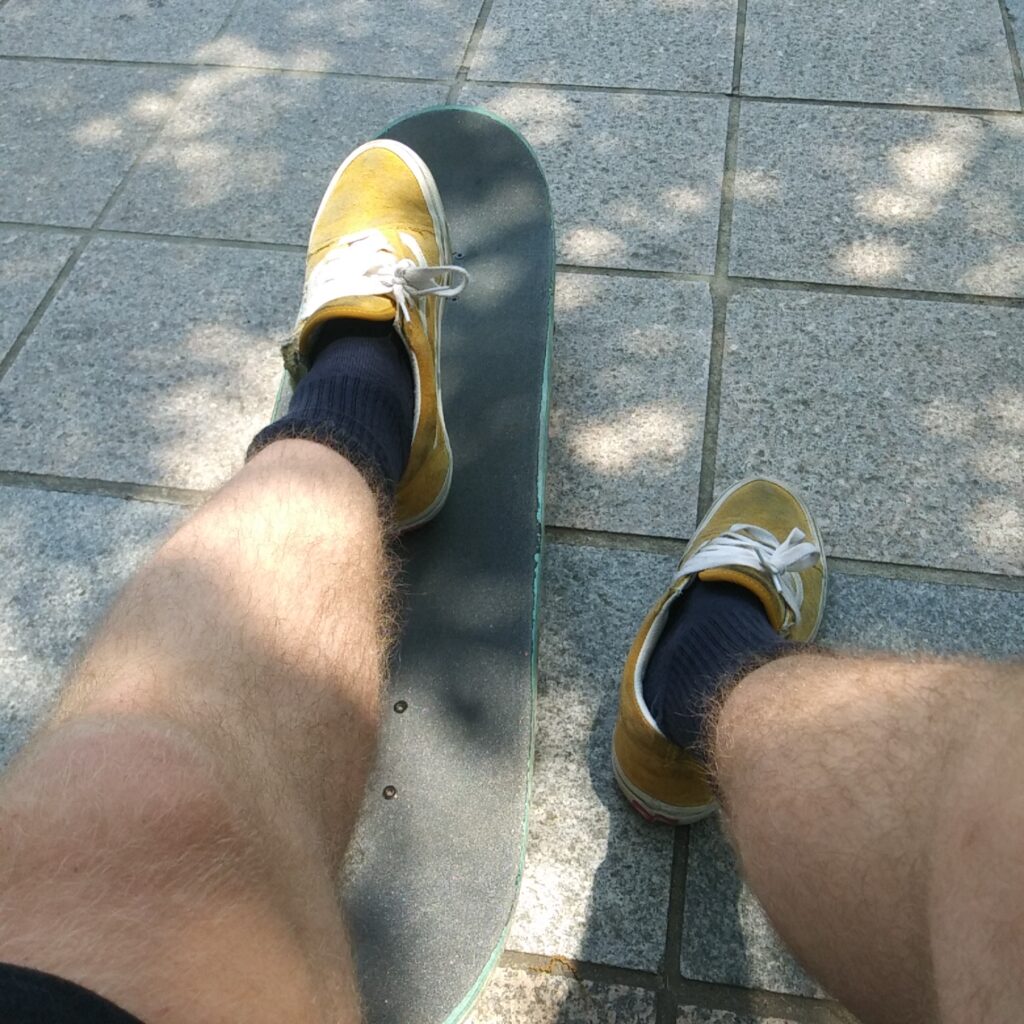 Can I Use Running Shoes to Skateboard?
If someone can exclusively skate in Timberlands and people can manage kickflips in high heels, then you can skate in running shoes.
But don't. Seriously, just don't.
Running shoes are not designed to be used for skateboarding. Their arched soles will give you a poor board feel and board control. The tread will "catch" the board at unwanted times and the thin uppers with make an ollie near impossible without cutting your ankle. Running shoes will make skateboarding extremely difficult.
Running shoes have no additional padding, cupped and arched soles, and lots of tread. This will make skateboarding extremely difficult and especially skateboarding with tricks next to impossible. You will even have difficulty cruising as stopping requires you to drag your foot across the ground which requires a flat sole with little tread.
I'm not saying it's impossible, but you're only making it difficult for yourself.
Conclusion
So in conclusion, skate shoes are actually specialty shoes that have features designed specifically for skateboarding. Although skate fashion is quite popular now and you will find shoes that are designed to look like skate shoes, but with a more minimalistic design.
These shoes might not have the extra upper padding for instance and are not suitable for skateboarding. Vans sells shoes like this that are purely aesthetic. You can't use these to skate other than just cruising.
Anyway, thanks for reading and I hope you got a clear idea of what a skate shoe is. Look out for more articles from Board and Wheels.