Skateboarding can be brutal on the knees. Particularly if you like street skating. I'm an adult skater who enjoys doing tricks, but I also want to save my knees. So the natural thing to do was to purchase some skateboarding insoles.
I bought a few different brands to test and see what I like. The last month or so, I've been wearing Remind Insoles and I actually love them even compared to Footprint's GameChangers.
I have reviewed quite a few pairs of skateboarding insoles and wrote up a round up review where I compare all of them side by side. Check it out.
Anyway, let's look at why.
Review
Summary: 4.2/5
These have become my favorite skateboarding insole to wear and I have tried three different brands at this point.
There are comfortable and fit well into your shoe while other insoles can take up too much space. They are soft and slightly contour to the shape of your foot. I imagine there is a layer of gel in the insole somewhere.
These skate well and I never once felt that it affected my skating or made my pop worse. At the end of a flat-ground session, when my knees should at least be sore, I felt fresh still if only a little tired from popping my board so many times. I really believe that these are knee savers and if you are an adult who wants to keep skating, then you should take a look at getting insoles.
The price is solid for what you get at $35 and there are loads of designs to choose from including pro-model designs.
These are seriously my favorite insoles to wear right now and I'll write a round-up post comparing all the insoles I've tried so far. I actually have Footprint Insoles ranked slightly higher at 4.3/5 because their designs are simply better. That being said, I prefer wearing the Remind Insoles. I think the biggest difference being that the Remind Insoles are thin and fit well in my shoe whereas the Footprint Insoles made my shoe feel bulky and tight.
Comfort: 4.5/5
Remind's insoles are comfy. There are soft, squishy, and quiet as you walk in them. I was aware of when I wore them more than other insoles, but not in a bad way. It was more like I kept noticing how it felt like walking across a gymnastics mat.
The insole also wasn't too snug inside my shoe like other insoles have been. It was thin enough to not make my shoe feel tight when I wore it. Like other insoles, it definitely feels different after finishing a skate session with flat-ground tricks. My knees feel less worn down and I feel fresher in general.
These insoles wear also comfortable to walk in and I tried them out in tennis shoes for a 2+ hour walk. Afterward, I was a bit tired, but the insoles definitely were easy to walk in.
If you want to read up on why your knees hurt after skateboarding and how to prevent knee pain, check out my guide for adult skaters.
Price: 4.5/5
The price is about $35-$45 for a pair of insoles and is more expensive than non-skateboarding specific insoles, but slightly cheaper than Footprint's Gamechangers which sell for about $50. If you take into consideration that you can get Footprint Insoles for cheap on Amazon, there really is no price difference.
The $3 actually pretty cheap for a skateboarding-specific insole and won't really break the bank. Especially considering you will not replace these insoles often at all, they are a good deal.
For these insoles, there is no difference between ordering them from an online retailer or from the company website. The price is the same.
Fitting: 4/5
The fitting for these insoles was true to size for me. I wear size 8.5 men's shoes and I ordered the size M 8.0-8.5 Cush Clouds insole. The insole slide and fit perfectly in my shoe and wasn't too bulky to make my shoe feel tight.
I also didn't need to trim down the sides or anything of the insole itself like sometimes you'll need to do with other insoles. If you wear a size 8.0 then maybe you would need to. It is always recommended to order the size that matches your shoe size. Don't order a size down or the insole will not fit well and will be very uncomfortable.
These insoles are not molded to fit your foot like Footprint Insoles, but they are made of a soft, almost gel-like cushioning that seems to slightly contour to the foot. It is worth noting that I have naturally high arches and I still felt support in my arch.
Was the fit as perfect as a custom-molded insole?
Probably not, so if you have a unique sole shape then this could be a consideration.
Skateability: 4/5
I enjoyed skating in these insoles and unlike some other insoles, they felt natural enough in my shoe that I never considered taking them out. For instance, with Footprint Insoles and Shred Insoles, they skated overall pretty well, but there was at least once when I removed them as I felt like they were softening my pop.
In those cases, I was also tired and near the end of a session, so that may not have been true at all. Still, this never happened with the Remind Insoles. They felt natural and easy to skate in. I never wondered how they were affecting my pop or my overall skating.
After my skate session, my knees felt great and fresh which is not normal after a flat-ground session for me. This is refreshing and makes me a bit motivated to wear the insoles as I want to keep my knees healthy for the long term.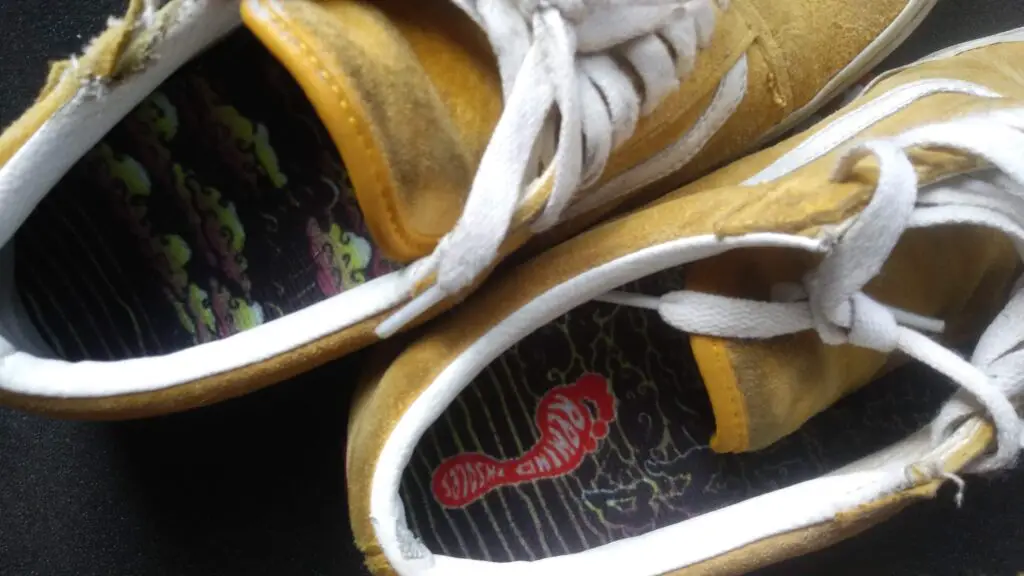 Design: 3.8/5
The design is ok for my insoles. I ordered the Cush Clouds Insoles and the artwork isn't so inspiring, but it isn't downright ugly either. It really doesn't make me think anything which is perfectly fine for an insole.
You will only ever see the design when you put on or take off your shoes. Normal people will never know you're walking on a super cool graphic.
I'll give Remind points for having a wide selection of different insole designs though. There are many variations of clouds in their designs as well as some unique and colorful animal and geometric designs. They have a few pro-model designs for their insoles as well which is refreshing to see.
I just chose a design that wasn't too ugly, but there are definitely better designs I could have chosen to better fit my taste. There weren't any designs I saw that really caught my eye though.
Remind Skateboarding Insole Sizing Chart
| | | |
| --- | --- | --- |
| Men's Size | Women's Size | Remind Insole Size |
| 4.0-4.5 | 6.0-6.5 | (M 4-4.5 | W 6-6.5) |
| 5.0-5.5 | 7.0-7.5 | (M 5-5.5 | W 7-7.5) |
| 6.0-6.5 | 8.0-8.5 | (M 6-6.5 | W 8-8.5) |
| 7.0-7.5 | 9.0-9.5 | (M 7-7.5 | W 9-9.5) |
| 8.0-8.5 | 10-10.5 | (M 8-8.5 | W 10-10.5) |
| 9.0-9.5 | 11-11.5 | (M 9-9.5 | W 11-11.5) |
| 10-10.5 | 12-12.5 | (M 10-10.5 | W 12-12.5) |
| 11-11.5 | 13-13.5 | (M 11-11.5 | W 13-13.5) |
| 12-12.5 | 14-14.5 | (M 12-12.5 | W 14-14.5) |
| 13-13.5 | 15-15.5 | (M 13-13.5 | W 15-15.5) |
Similar to other insole companies, there are no insoles offered that exactly matched shoe sizes to the half a size. The result is that you may need to trim your insole with a pair of scissors to get the exact fit you want. This is normal and isn't really a bad thing.
Remind Insoles fit true to size. I have a shoe size of 8.5 and my pair of 8.0-8.5 insoles fits snug inside my shoe without needing to be trimmed along the edge.
If you haven't learned to skate switch, check out my guide on why you should learn skating switch and how to improve fast.
Additional Questions
Are Remind Insoles Heat Moldable?
Similar to Footprint Insoles, Remind offer a heat-moldable insole.
There is a pair of Remind Insoles that are heat-moldable called the Remedy. These insoles are priced at $60 for a pair on the company website and are sold for the same price on Amazon. Other Remind Insoles are not heat-moldable and subjecting them to high temperatures could damage the insole itself.
I can't say much more than this as I purchased and wore the Cush Clouds model which is a non-heat-moldable insole. Though heat molding really gives the best fit for your unique foot shape so if you want to dish out a bit of extra money the added comfort could be worth it for some people.
Conclusion
So that's it!
These are my favorite insole that I've tried so far and I'm going a round-up post about the different insoles and how they compare directly here soon.
For the great combination of price and comfort, I absolutely recommend these insoles. You really couldn't go too wrong here. Even compared to Footprint's famous Gamechangers Insoles, these hold up and I actually kind of prefer them.
Anyway, thanks for reading, and keep a lookout for more articles from Board and Wheels.