Pick a Board that Fits Your Daughter's Size
The size of the skateboard is determined by the skateboard's deck width. This is typically the only dimension you choose while selecting a skateboard.
Skateboards are sized by their widths and generally the smaller the width, then the smaller the board. For children and small teens, you can look for skateboards with widths in the 7 inches to 8 inches range. Having a larger skateboard isn't really an issue for kids as it increases stability and even small children can move them easily.
Don't go for boards over 8 inches in width as these are meant for adults and people who want more stability in their ride. Most all reputable skate companies will carry boards as small as 7-inch width boards. Expect to pay at least $50 for a quality complete skateboard though recently this price has been increasing and I've seen completes go for as much as $150.
5 Best Skateboards for a Young Girl or Teenager
Whether your daughter is a child, a preteen, or a teenager. These boards will be sure to get her started right. I have personally skated these boards in larger versions (8″ deck width) and can attest to their quality. I'm not a young girl, but I do know skateboarding.
An Element board is actually one of my current set-ups and it is wonderful if you are trying to learn tricks and be able to control the board. Element is one of the largest skate brands in the market and for good reason. They sponsor amazing riders and make interesting content (though I haven't been a fan of their recent nature series).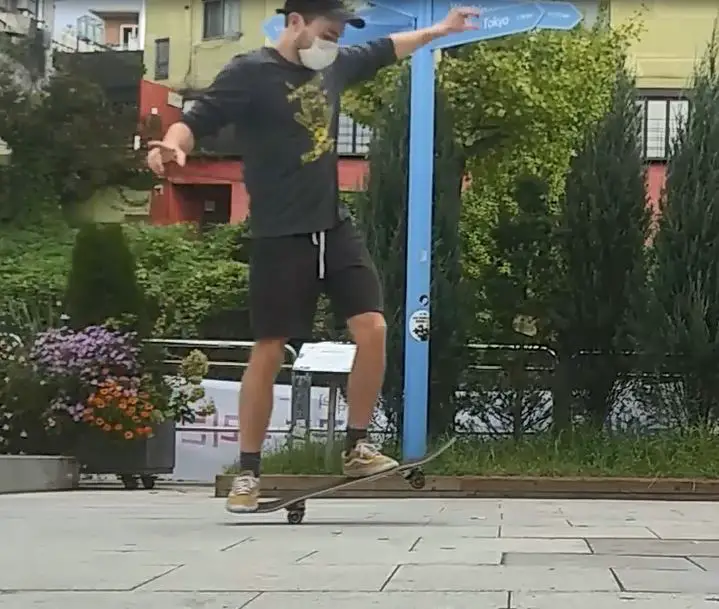 The set-up is great for popping and twisting your board and the whole ride just feels crisp. If you're a skateboarding fan imagine how Nyjah Hudson looks skating.
Let's look at the positives of this board set-up.
Pros
Quality and sturdy 7-layer maple wood
Reputable brand
Hard wheels that all for better pop and board control
Great selection of graphics
Offers board sizes suitable for children
Cons
Slightly expensive for a complete. You can get a cheaper set-up that is also quality (Enjoi and Almost are good cheaper brands)
Not ideal for cruising. This is a skateboard for the skatepark and isn't meant to ride the streets with
You might notice that Independent trucks are getting a lot of love on this list. That's because they are of great quality and offer lifetime guarantees on their products.
An Alien Workshop board has my absolute favorite graphics of any skate company out there. It was also the first set-up I ever had in middle school. They're one of the most respected brands in the industry, make great products and skate content, and their older model boards are even collectibles now.
Let's look at some pros and cons for the board.
Pros
Quality and sturdy 7-layer maple wood
Reputable brand
Hard wheels that all for better pop and board control
Great selection of graphics including from female pro skaters
Offers board sizes suitable for children
Cons
Again, slightly more expensive than certain brands you can buy from. Worth the price though in my opinion
A street skate set-up that isn't ideal for cruising
This is the cruiser that I keep around to skate with friends who have never skated before.
It's large, stable, and feels like a cloud when you ride. Perfect for cruising along rough streets and through almost any urban terrain. I have simply ridden over bumps and cracks that would have sent me flying on a normal street skateboard.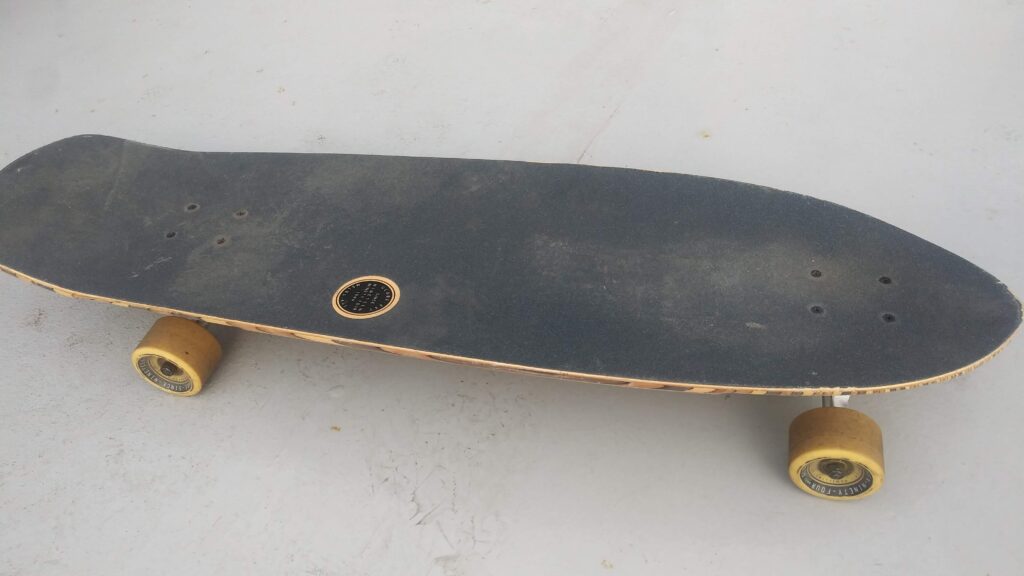 This is the best option if your daughter wants to just cruise or ride around. She won't be learning how to Ollie with this board, but she will be cruising in no time.
Pros
Quality and sturdy 7-layer maple wood
Reputable brand
Soft wheels that can easily ride over cracks and small debris
Fabric inlay with a floral pattern that simply looks great
Large board for a stable and smooth ride
Cons
Expensive. Cruisers and longboards tend to be more expensive than street style skateboards
Large and bulky so that if you aren't riding it, carrying it around can be a chore
You can't do any tricks easily
Blind is a great slightly more moderately priced option for a quality skateboard. Their graphics also often feature a cutesy cartoon grim reaper-type character that kids are drawn to. They also offer some interesting and colorful graphics to choose from so there's something for everyone.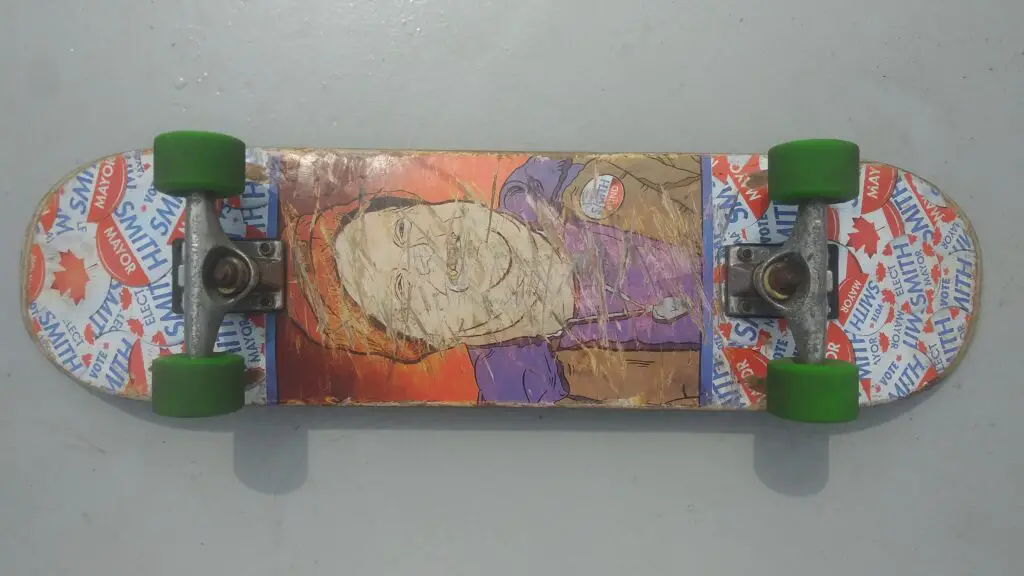 I skated my Blind deck to nothing and actually still keep it around as a cruiser board. I think I've had it for like 2 years now so that should tell you about its durability.
Pros
Quality and sturdy 7-layer maple wood
Reputable brand with cartoon like graphics
Offer smaller deck sizes suitable for children and teenagers
Slightly cheaper than Element and Alien Workshop completes
Cons
Not ideal for cruising. Smaller wheels designed for tricks
Some graphics on the website probably aren't the best for young girls (my Blind board's graphic for example)
Finally, here is a slightly expensive, but very nice option for your daughter. Santa Cruz Skateboards have an amazing selection of not only street boards, but various cruisers. This cruiser is designed to be smooth to ride, easy to start with, and also features a kicktail so that your daughter can learn some basic tricks on the board.
The graphic and color scheme are also very conventionally "girly", but still cool. The only downside is that it's a bit more expensive than a normal street skateboard.
Pros
Wide board for a stable ride
Soft longboard wheels for a smooth ride
Cute and cool flower graphic
Not as big as normal longboards
Quality and durable cruiser
Can cruise as well as perform some tricks
Cons
More expensive than a normal street skateboard
Can't perform tricks quite as well as a normal street skateboard
If you want to see an inspiring list of the best women pro skaters out there, check out my curated list of the best women skaters here.
Total Estimated Cost to Get Started with a Skateboard and Pads
To be completely upfront with what you should expect to spend to get your daughter set up to skateboard, let's start with the price.
You should expect to pay around $200 total to get your daughter set up with a quality skateboard and protective gear. The skateboard or cruiser will cost around $80-$120 and the rest of the budget will be for a helmet and pads. You can get these items cheaper, but you will sacrifice quality to do so.
Now that that's out of the way, let's look at skateboards that would be suitable for a young girl or teenage girl.
Necessary Safety Gear
Helmet
A helmet is a must for skateboarding and most high-impact sports.
As a beginner, your daughter will need a helmet. If she ever plans on skating transition, which means bowls and halfpipes, then you will absolutely, always need to be wearing a helmet.
Some kids and teenagers don't want to wear this as they feel like a helmet isn't cool, but for a beginner, a helmet is a necessity.
A life-long head injury isn't worth looking cool while you skate.
How Can I Measure My Daughter's Helmet Size?
To ensure a perfect fit, measure the circumference of your daughter's head starting in the middle of her forehead and match it with the sizes in each company's respective size chart. You can use a measuring tape to do so.
Below is the size chart from the company Triple8. These sizes will be similar to other companies, but you always should check the proper size chart before ordering.
If her measurements are in-between the sizes shown or you're simply in doubt, then I strongly recommend sizing up to the larger size.
| | |
| --- | --- |
| Size | Head Circumference |
| XS/S | 20 in – 21.25 in (51 cm – 54 cm) |
| S/M | 21 in – 22.5 in (53 cm – 57 cm) |
| L/XL | 22.5 in – 23.5 in (57 cm – 60 cm) |
| XL/XXL | 23.5 in – 24.5 in (60 cm – 63 cm) |
How Much Do Skateboarding Helmets Cost?
The price for a decent helmet from a skateboarding company will cost around $30-$50. This might seem expensive, but a quality helmet could save your daughter's life. Helmets are also typically a one-time expense. You will purchase one and you will never need to purchase another.
There is a good amount of variety in the price of helmets and usually, the price will match the quality. JBM is the only non-skateboarding specific company on the list below.
My advice is that you shouldn't expect good quality from any helmet that costs less than $20. Paying an extra $10-$15 is worth the better comfort, design, and material quality.
| | |
| --- | --- |
| Company | Helmet Price |
| Triple8 | $40-$70 |
| JBM (not a skateboard company) | $15-$35 |
| Gonex | $15-$30 |
| Pro-Tec | $33-$60 |
| Monata | $25-$40 |
If you're interested in going even more indepth with safety gear including things like padded shorts, then check out my complete guide here.
Knee Pads
Knee pads can save any beginner skater and are necessary if you are skating bowls or transition even as a veteran. The pads themselves can be pretty bulky or more light-wight. Bigger may seem unnecessary, but if your daughter is going to slide down a concrete bowl with them you might change your mind.
While skating flatground, if she isn't a beginner, then she really doesn't need them. I honestly can't remember the last time I fell on my knee while skating flatground. At some point, she will have learned how to fall, and falling on her knees just doesn't happen anymore.
How Can I Measure My Daughter's Knee Pad Size?
To ensure a perfect knee pad fit, measure the circumference of her extended knee starting at the front of the knee. Do not bend her knee while measuring.
The following table is an example of general sizing. It is taken from Triple8's pad sizing charts. If you are not sure of your daughter's size always order a size larger!
| | |
| --- | --- |
| Size | Circumference of Unbended Knee |
| JR | 11 in – 12.5 in (28 cm – 32 cm) |
| S | 12.5 in – 14.5 in (32 cm – 36 cm) |
| M | 14.5 in – 16 in (36 cm – 40 cm) |
| L | 16 in – 17 in (40 cm – 44 cm) |
How Much Do Knee Pads Cost?
Knee pads are often sold in a set with elbow pads, a helmet, and possibly even wrist guards. Getting a bundle is usually the cheapest option. Below is a price for buying the individual knee pads unless marked otherwise. The price range is pretty similar across the board with JBM being the cheapest, but also not of good quality.
| | |
| --- | --- |
| Company | Knee Pad Price |
| Triple8 | $20-$40 |
| JBM (for a set of knee/elbow pads and wrist guards, cannot buy individually) | $15-$30 |
| Gonex (for a set of knee/elbow pads and wrist guards, cannot buy individually) | $30-$60 |
| Pro-Tec | $25-$35 |
| 187 Killer Pads | |
Elbow Pads
Elbow pads are essential for a beginner. Even on flatground sometimes I can fall on my elbow and if your daughter is learning transition for the first time I would also recommend them. The hardest I've ever hit my elbow was on a concrete little mini halfpipe learning to rock and fakie.
Once she is comfortable skating transition (bowls and halfpipes) then you won't really need them. For example, you'll see that professionals like Tony Hawk and Lizzie Armanto usually don't wear elbow pads while skating transition.
How Can I Measure My Daughter's Elbow Pad Size?
To ensure a perfect elbow pad fit, measure the circumference of your extended elbow and do not bend it while measuring! Use a measuring tape.
Below is an example size chart from Triple8. If you are unsure of your daughter's size, then you should always buy one size larger.
| | |
| --- | --- |
| Size | Circumference of Unbended Elbow |
| JR | 5 in – 6 in (12.2 cm – 15.2 cm) |
| S | 6 in – 8 in (15.2 cm – 20.3 cm) |
| M | 8 in – 10 in (20.3 cm – 25.4 cm) |
| L | 10 in – 12 in (25.4 cm – 30.5 cm) |
How Much Do Elbow Pads Cost?
The price range for elbow pads is pretty much the same for elbow pads. You can buy a bundle to save some money, but the individual price for a set of elbow pads is around $20-$30.
I would avoid JBM and 187 Killer Pads make great pads, but they are a bit pricier.
| | |
| --- | --- |
| Company | Elbow Pad Price |
| Triple8 | $20-$35 |
| JBM (for a set of knee/elbow pads and wrist guards, cannot buy individually) | $15-$35 |
| Gonex (for a set of knee/elbow pads and wrist guards, cannot buy individually) | $30-$60 |
| Pro-Tec | $23-$35 |
| 187 Killer Pads | $35-$42 |
Wrist Guards
Wrist guards are great for cruising or flat ground where a fall will likely mean the skater will try to catch herself with her arms. This urge can be dangerous as she can land on her own hands or wrist and break something. She also can damage her shoulders.
Wrist guards have saved me countless wrist sprains and I love my pair. Personally, I skate regular and usually only have one wrist guard on my left wrist. This is just because I fall on that wrist much more often as it's front-facing while I skate.
How Can I Measure My Daughter's Wrist Guard Size?
To figure out your daughter's sizing, you need to measure her hand circumference at the knuckles. It's encouraged that if you are unsure about her size then you should go one size up. This is better than having a wrist guard your daughter can't even put on.
There will be some variance with each company and it's best to refer to that company's sizing chart. The sizing chart here is from 187 Killer Pads:
| | |
| --- | --- |
| Size | Knuckle Circumference |
| Junior (JR) | 6 in – 7 in |
| Extra-small (X-Small) | 7 in – 8 in |
| Small | 8 in – 9 in |
| Medium | 9 in – 10 in |
| Large | 10 in – 11 in |
How Much Do Wrist Guards Cost?
Most wrist guards cost in the $20-$25 range. These are the fully supported standard wrist guards. There is another wrist guard model that is extremely minimalistic that only offers protection from road rash and offers no wrist support. These models are in the $12-$15 range in price.
Below is a table with some common pricing values for wrist guards. You can see how there is little price variance across different companies.
| | |
| --- | --- |
| Company | Price |
| 187 Killer Pads Wrist Guards | $20-$22 |
| Triple8 Wrist Guards | $20-$23 |
| Pro-Tec Wrist Guards | $20 |
| Soared Wrist Guards | $13 (Minimalistic Model) |
| ELOS Wrist Guards | $20-$22 |
If you are interested in seeing a bought and tested wrist guard review, check out my review of 187 Killer Pads wrist guards.
Dispelling Misconceptions
There are quite a few misconceptions floating around the internet that should be dispelled. The first one is usually pushed by spam websites that don't really care about the information they are presenting. They want you to buy their skateboards.
Let's look at it.
There is No Separate Male and Female Skating Gear
This is a big misconception that is exclusively pushed by spammy websites online.
There really is no difference in a girl's skateboard and a boy's skateboard other than size if the two kids are smaller or larger than one another. Some people can argue that certain board graphics are more girly than others. Sure, a flower graphic is more stereotypically girly, but boys could skate that board just fine too.
So keep this in mind when looking over the skateboards we suggest in this article. These skateboards are selected as they are quality, from reputable brands, and offer board sizes suitable for teens and kids.
Skateboarding Might Be Less Dangerous Than Other Sports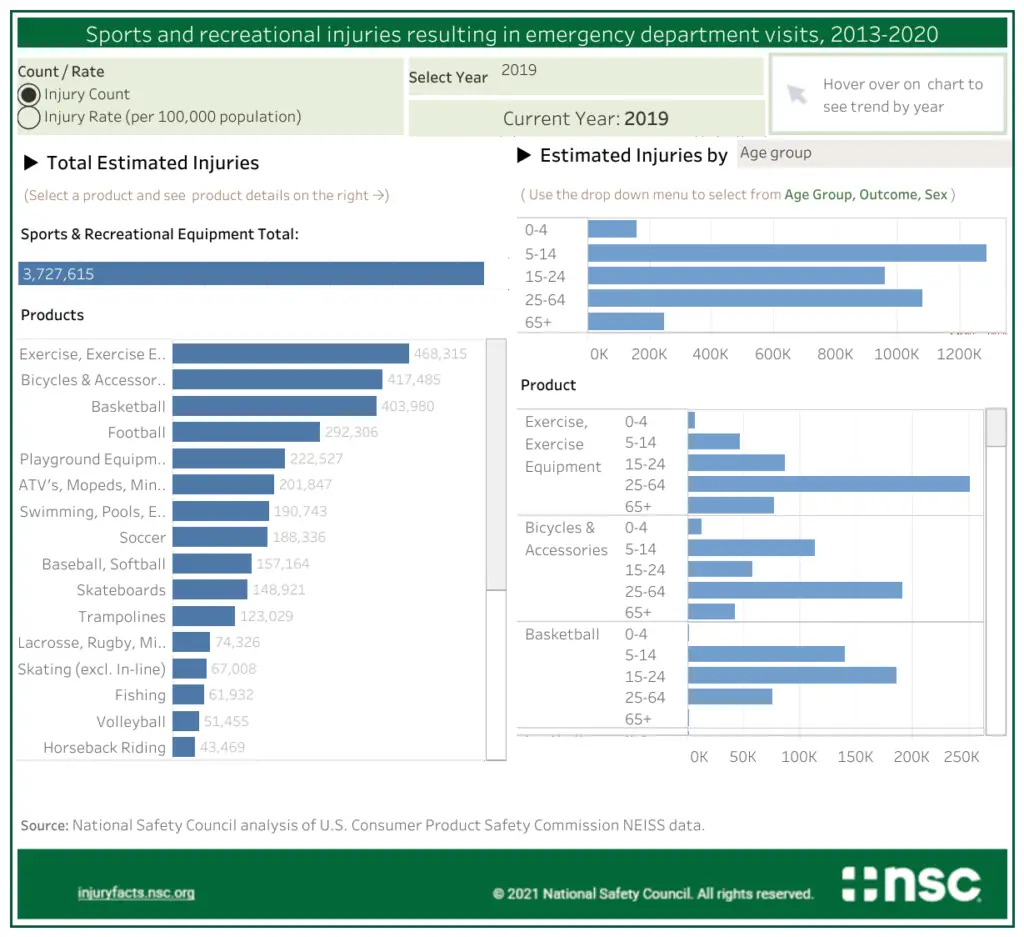 There is an idea out there that skateboarding is more dangerous than normal sports. Well, research says otherwise.
While skateboarding is on par with other sports for the number of injuries, conventional sports like basketball and soccer. One study cited the incidence of injury that requires a hospital visit among skaters under 16 years old to be .68 for every 1000 (source).
In other words, skateboarding isn't going to kill your daughter and she's very unlikely to ever even go to a hospital for skateboarding.
Skateboarding Isn't for Girls
The last idea is that skateboarding just isn't for girls.
While skateboarding is definitely male-dominated, this idea is just bogus. Hobbies aren't gender-specific and there are tons of women with full-time careers in skateboarding that any young girl skater could aspire to. There are also groups like Skate like a Girl that specifically are designed to help girls and women feel comfortable in the skating world.
If you want to know how to make sure your daughter is safe skating, then check out my guide on how to keep your child safe while skating and why girls should absolutely give skateboarding a go.
What Percentage of Skateboarders are Female?
According to an industry study done by GrandView Research, 23.9% of all skaters are female. If you are only including people who skate at least 52 times a year (about once a week), only 16.6% are female. This implies that skaters who skate frequently are more likely to be men or that women and girls are more likely to be casual skaters.
This is definitely easy to see in the representation of skateboarding. Just look at Thrasher Magazine. It's all guys. While there are women's street skating competitions, they don't get nearly the amount of press as men's street skating competitions. When you search famous skateboarders, on Google, this is the line-up you see.
Woman Owned Skate Companies & Brands
There is even a massive list of skate brands that are owned and operated by women. The list includes:
Autonomy Skateboards
Brujas
Cheers Skateboards
Doyenne
Gnarhunters
GRLSWIRL
Housewife Skateboards
KateBoards
Meow Skateboards
Original Skateboards
Proper Gnar
Quell
Salon
SK8BABES
Strangr.
Street Plant
The Skate Witches Zine
And to be honest, there are probably more on this list I just don't know about.
Also, a crazy fact is that skateboarding is now the largest female sport in Afghanistan. Well, that was before the Taliban took over a few months ago in 2021 and outlawed women athletes. Awkward.
Anyway, representation by non-profits, skate companies, and pros are there. Even since the beginning of skateboarding in the seventies, women have been skating.
Examples of Skater Girls
Lizzie Armanto
Lizzie Armanto is a beast of a skater. She is an American/Finnish skater who has won multiple women's category X-games events and has plans to represent Finland in the 2021 Tokyo Olympics.
She did have a very nasty fall in October 2020, where she basically flew 30 feet over a jump into a wall and then fell about 20 feet to the ground. This fall required surgery, but you can see that she is recovering well in the video below.
Misugu Okamoto
Misugu is a beast of a skater. She is representing Japan in the 2021 Olympics and is ranked 1 of all the qualifying Olympic qualifiers. She was born in 2006 and will be just 15 years old when she competes.
She was the first woman to perform a kickflip indy in competition in 2019 and she often performs a nasty 540 spin in her competition runs.
If you want to know about the most common problems with doing a moving ollie you can check out our guide here.
Nora Vasconcellos
I'm trying to do better here by including Nora in this mega post because I didn't include in my 13 best female skaters post and it has been bothering me since.
Known for her stylish backside airs, Nora is a bonafide skateboarding star currently skating with the Adidas team. She got her first skateboard at the age of 5 and it was a go from there. She exudes fun and spontaneity and is a joy to watch skate in general.
There really are so many amazing women skaters to follow that it's crazy. Skateboarding is absolutely changing. 🙂
Conclusion
So that's it.
Hopefully, you found a nice skateboard for your daughter or at least learned something the sizing and type of skateboards to be looking for. Too many websites push absolute bogus about how their skateboard is custom for girls when most skateboards are functionally the same.
I tried to include some topical general information to assuage any worries you might have about your daughter skateboarding as well.
Anyway, thanks for reading, and look out for more content from Board and Wheels.
Sources