Girls are becoming more prominent in skateboarding. It used to be rare to find girls or women at the skatepark, but this is changing.
Skateboarding is still a male-dominated sport, but women are becoming more and more likely to pick up a board.
Women, such as Patti McGee, have been skateboarding since the birth of the sport in the seventies. It is estimated that today 23.9% of all skaters are female. The percentage of women in skateboarding is increasing. Nonprofits such as SkateLikeAGirl and MakeLifeSkateLife are empowering and supporting female skaters.
There are more reasons than ever to help your daughter pick up a skateboard or maybe teach your girlfriend how to ollie. If you are reading this and are scared to get your first board, don't be!
Skaters are much more friendly and accommodating than most people think. The only person stopping you is yourself.
You can check out how to size a skateboard for your daughter and what boards might be best for her in my complete guide here.
Can Girls Skateboard?
This question is absurd.
Of course, girls can skateboard. Of course, women can skateboard.
The sport is dangerous, but there are no physical limitations that are keeping girls/women from skating. The major reason that girls might be afraid to skate is the idea that skating is a male-dominated sport.
And it kind of is.
According to the Tony Hawk Foundation, 76.1% of all skaters are male. You can go to any skatepark and see this for yourself. It really isn't uncommon to go to the skatepark and not see any girl/women skating at all.
Although, there isn't a study to back this up, from personal experience, I would wager that of skaters who are very skilled skateboarders, women are even a less of a percentage.
This is changing though and there are good forces at work to try and help girls and women enter the skateboarding world.
Skate Like A Girl is a non-profit that is designed to help women, non-binary, and non-gender conforming people find a community through skateboarding. They make great videos, hold in-person sessions, and even encourage all different body types to step on a board.
There is even a whole big list of skate brands that are owned and operated by women. The list includes:
Autonomy Skateboards
Brujas
Cheers Skateboards
Doyenne
Gnarhunters
GRLSWIRL
Housewife Skateboards
KateBoards
Meow Skateboards
Original Skateboards
Proper Gnar
Quell
Salon
SK8BABES
Strangr.
Street Plant
The Skate Witches Zine
And honestly, there are probably more on this list I just don't know about.
Also, a crazy fact is that skateboarding is now the largest female sport in Afghanistan. Whoah.
So representation by non-profits, skate companies, and pros are there. Even since the beginning of skateboarding in the seventies, women have been skating. So of course, women can skateboard.
Honestly, in my experience, skating has always been about inclusivity. It was a subculture for the misfits of society and for people who wanted an escape from everyday life and rules. So how would it make sense to exclude a whole gender?
I've heard stories about skaters treating girl skaters differently and harassing them, but I've never actually witnessed it. And just because there are a few assholes out there, doesn't mean you shouldn't do something you want to do.
So please, if you're reading this and are worried about getting out there as a woman, just go for it. It could be the best decision of your life.
The same goes for if your daughter or girlfriend wants to step on a board. Support them, help them, and let them feel comfortable in the petri dish of skateboarding. There really is even space for everyone.
If you want to know about the most common problems with doing a moving ollie you can check out our guide here.
What is the Best Skateboard for Girls?
So are there any skateboards that are better for girls/women than guys?
There is no skateboard that is better or more suited for a girl than a boy. You should choose a board based on the skater's height, weight, and how the skater wants to skate. If she wants to do tricks, then the skater will need a traditional popsicle board so she can pop the tail. If she just wants to cruise, then any cruiser board or even longboard will be suitable.
The most important thing to keep in mind is that the board size and width are comfortable for the rider. You can see the recommended deck widths by height in the graphic below. Deck width is just for comfort. Try a few boards out at the skate shop and see what is most comfortable.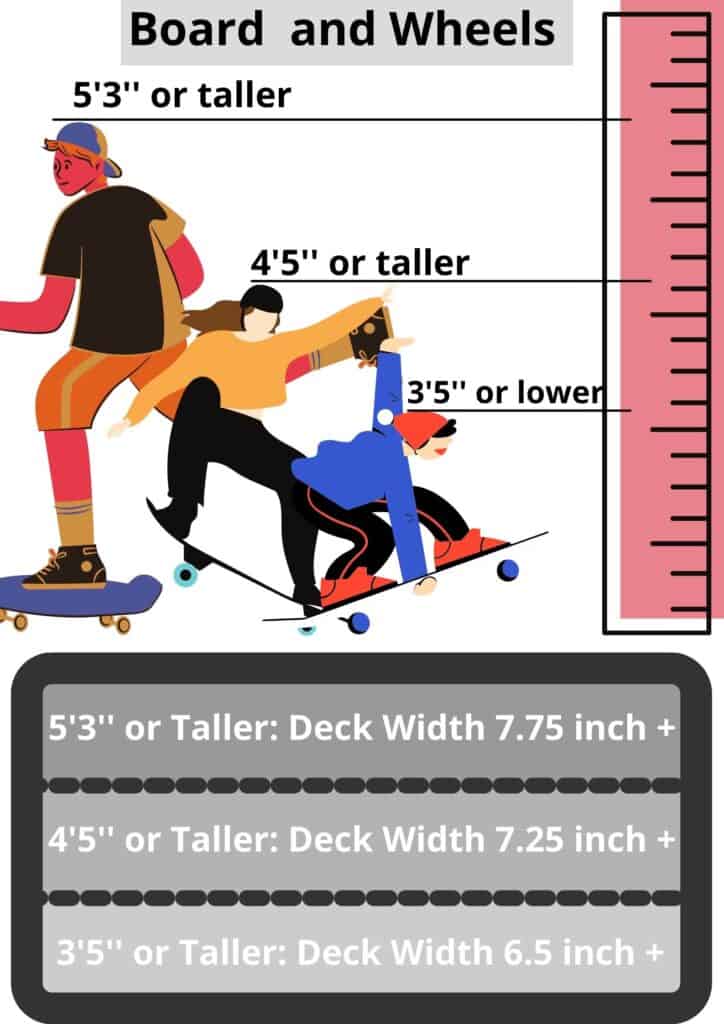 What Percentage of Skateboarders are Female?
According to an industry study done by GrandView Research, 23.9% of all skaters are female. Of people who skate at least 52 times a year (about once a week), only 16.6% are female.
This is definitely apparent in the representation of skateboarding. While there are women's street skating competitions, they don't receive nearly the same press as men's street skating competitions. When you search famous skateboarders, on Google this is the line-up you see.
How many women skaters do you see?
So yes, this is somewhat a natural consequence of more boys/men skating than women. The industry and culture change to accommodate the demographics it caters to.
This can definitely leave you feeling out of place if you are a woman skating. That being said, there are plenty of subcultures, non-profits, and skate brands that cater specifically to female skaters. You might not have a place in the skateboarding mainstream, but the is definitely a place for you in the skateboarding world.
Is Skating a Male-Dominated Sport?
If you go to any skatepark, you will see more guys than women. Skateboarding is something that most women have written off as a guy thing.
There are more men in skateboarding than women. The industry and skateboarding culture mostly caters to male skaters. That being said, there is a growing number of female skaters. There are great organizations such as Skate Like A Girl and MakeLife SkateLife that are empowering more girls and women to skate.
So yes, skating is more geared toward boys and men, but that shouldn't stop anyone from giving skateboarding a go.
Examples of Skater Girls
Leo (Lacey) Baker
Lacey Baker (now Leo Baker) was a skating standout as a child and teen. They/them started skating at 5 years old and won gold in women's street skating at the X-games in Austin in 2014. They/them have competed as recently as 2019 and have some serious skills.
Lizzie Armanto
Lizzie Armanto is a beast of a skater. She is an American/Finnish skater who has won multiple women's category X-games events and has plans to represent Finland in the 2021 Tokyo Olympics.
She did have a very nasty fall in October 2020, where she basically flew 30 feet over a jump into a wall and then fell about 20 feet to the ground. This fall required surgery, but you can see that she is recovering well in the video below.
Misugu Okamoto
Misugu is a beast of a skater. She is representing Japan in the 2021 Olympics and is ranked 1 of all the qualifying Olympic qualifiers. She was born in 2006 and will be just 15 years old when she competes.
She was the first woman to perform a kickflip indy in competition in 2019 and she often performs a nasty 540 spin in her competition runs.
Pamela Rosa
Pamela Rose is representing Brazil in the women's street category in the 2021 Tokyo Olympics. She has a clean relaxed style and has seriously improved over the years and you can see it in her video clips.
She is still very young at 22 years old and still has yet to hit her prime. Definitely love to see skateboarding represented across the world and Pamela is a fun skater to watch.
Honestly, there are so many amazing women skaters that you should be following that it's mind-numbing. Check out the list of women representing countries in the 2021 Olympics below as a starting point of who to check out 🙂
Who Are the Women Skateboarders in the 2021 Tokyo Olympics?
Park Competition
Misugu Okamoto- Japan
Sakura Yosozumi- Japan
Sky Brown- Great Britain
Poppy Starr Olsen-Australia
Lizzie Armanto- Finland
Kokona Hiraki- Japan
Bryce Wettstein- USA
Dora Varella- Brazil
Isadora Rodrigues Pacheco- Brazil
Brighton Zeuner- USA
Jordyn Barratt- USA
Yndiara Asp- Brazil
Julia Benedetti- Spain
Lilly Stoephasius- Germany
Xin Zhang- China
Madeleine Larcheron- France
Amelia Brodka- Poland
Josefina Tapia Varas- Chile
Bombette Martin- Great Britain
Melissa Williams- South Africa
Street Competition
Pamela Rosa- Brazil
Rayssa Leal- Brazil
Aori Nishimura- Japan
Leticia Bufoni- Brazil
Momiji Nishiya- Japan
Mariah Duran- USA
Roos Zwetsloot- Netherlands
Candy Jacobs- Netherlands
Hayley Wilson- Australia
Funa Nakayama- Japan
Alexis Sablone- USA
Keet Oldenbeuving- Netherlands
Margielyn Arda Didal- Philippines
Alana Smith- USA
Wenhui Zeng- China
Lore Bruggeman- Belgium
Julia Brueckler- Austria
Charlotte Hym- France
Asia Lanzi- Italy
Boipelo Awuah- South Africa
You can meet the women's Olympic team in this great video. Though not all the skaters shown qualified to actually compete in the Olympic games.
Who is the Best Female Skateboarder?
This is more of a matter of opinion than fact. How do you even decide this?
So I'm not going to go find the female skater with the most competition medals or the sickest street part. I'm just going to write about my favorite female skater.
Alexis Sablone has history. An artist from New York, she has been skating for 23 years as of 2021. She has some amazing street parts and also great art as an illustrator, sculpture, and architect.
Check out the Wonderful, Horrible, Life part where although it isn't the most creative part, she just hits stair after stair incredibly clean.
Another video, Welcome to WKND is a more recent video where she mostly forgoes the huge stair sets, but still does some tricks over sketchy obstacles such as basement stairs and street railings.
She is a bit older now as she is in her thirties, but she still skates actively and is representing the US in the 2021 Olympic games. So get hype and check her out.
You can find a lot of her newer videos on YouTube and you can see some of her art here amongst her skating pics.
Also, this isn't an article about male skaters, but my favorite male skater is Jonny Giger (or maybe Andy Anderson?). The dude is a beast. 😉
Sexism in Skateboarding
Sexism in skateboarding isn't really talked about too much. While skateboarding is generally considered a male-dominated sport, the conversation rarely goes into the darker side of that. Personally, I haven't seen much of this firsthand, but there is some great reporting out there where you can get first-hand accounts of sexism in skating and how it affects female and non-binary skaters.
Because I'm not an expert, I won't summarize what I've learned here, but I will leave links to the best-written articles on the subject that I've found. It seems that women and non-binary people have a very different experience skating than I have had as a man.
So check these out. They're great reads.
Sexism, bullying and growth: a look inside how women and queer folk fare in the skateboarding community
How Skater Girls are Tackling Sexism in the Sport
Girls Talk About Skating in a Guy's World (this article is about 5 years old, but still a good read)
Conclusion
So skating is really for everyone. Don't let fear or any perceived lack of representation stop you from getting out there. Women are increasingly influencing skate culture and they are here to stay.
There are a ton of great female skaters to check out in the 2021 Olympics and in all the Olympics from here on out.
There are also great organizations that support bringing women into skateboarding and loads of skate brands owned by women.
Social media is also bringing younger women skaters together. TicTok and other social media apps are giving a platform for girl skaters to be more visible.
So yea. Get out there and get to skating. Don't be worried if you are a girl skater. You have a place in skateboarding. The same goes for parents who are worried about their daughters skating. She will be fine and you should encourage her to engage with the sport safely.
So that's it. Thanks for reading and look at for more articles from Board and Wheels.